No sanctions for rule-breaking MLAs
By Mark Devenport
BBC News NI Political Editor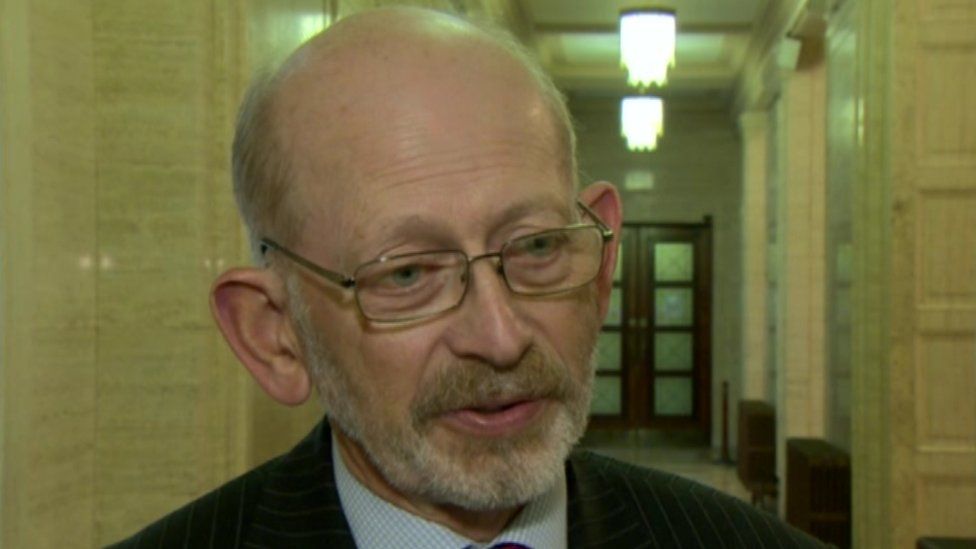 From this weekend, the public will not be able to make formal complaints about the conduct of Assembly members they believe may have broken Stormont rules.
Assembly Standards Commissioner Douglas Bain is stepping down at the end of his five-year-term.
No-one has been appointed to replace him, which he says is "ridiculous".
"There will be absolutely no-one to look into these complaints, far less anyone to impose any sanction on an MLA who has breached the rules," he said.
This is despite the fact that MLAs are continuing to receive their full pay and allowances, and complaints are still received made about their conduct.
The standards commissioner's job is not the only Stormont watchdog role to be left vacant.
The three members of Independent Financial Review Panel, which sets MLA pay and allowances, left their jobs in July 2016 and have yet to be replaced.
In an interview with the BBC's Inside Politics programme, Mr Bain said that "most right-thinking people will think the position is getting intolerable".
Alan McQuillan, who served on the panel, told Inside Politics there was a vacuum in all Stormont's mechanisms of accountability.
Mr McQuillan's understanding is that the two main Stormont parties "have a completely different view" about the composition of any replacement panel.
He said he believed Sinn Féin wanted to add former MLAs to any future panel, but the DUP was content to have a more independent structure.
Mr McQuillan said he was "utterly unconvinced" by the proposal to add former politicians to the panel, and has been a vocal advocate of cutting MLA salaries if the Assembly and Executive are not restored in the near future.
This week, Secretary of State James Brokenshire told the House of Commons: "There is no direct way in which I can intervene; there is no legislation that would authorise me to do so".
But Mr Brokenshire said he would consider the matter should he have to take more direct control over Northern Ireland's affairs.
Mr McQuillan told Inside Politics he believed the Secretary of State cannot vary MLAs' pay rates prior to direct rule, but could turn the financial tap off completely by suspending the section of the Northern Ireland 1998 Act that authorises the current salaries and allowances.
Douglas Bain, who has held a number of other high profile jobs, including chief electoral officer, said it had been a long time since Stormont "did anything useful".
"What is essential is that so long as MLAs are receiving pay and allowances, and allegations are being made about their misconduct, there has to be a system for dealing with those complaints," he said.