Probation Board staff 'warned of increased dissident threat'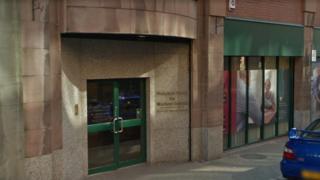 Probation Board for Northern Ireland (PBNI) staff have been warned they face an an increased risk of attack from dissident republicans.
PBNI said it was informed of the threat on Thursday and has worked closely with police over the past 24 hours.
The organisation said the risk "may be higher" for its employees living and working in republican areas.
"The PSNI will be providing advice on office security and personal security over the next period," the board added.
Its chief executive, Cheryl Lamont, said the threat was "unprecedented", and expressed disappointment that staff had been threatened while providing a public service.
"Everything we do is about protecting people and ensuring there are fewer victims of crime," she said.
Threat condemned
The board has 400 officers, who are essentially social workers working within the criminal justice system.
The threat has been condemned by union representatives in the Northern Ireland Public Service Alliance (Nipsa).
Nipsa said PBNI staff were advised of the threat at meetings in Belfast, Londonderry, Ballymena, Portadown and Maghaberry Prison on Friday morning.
The union claimed senior PBNI management had said the security threat level "has increased from low/moderate to substantial" for staff in republican areas.
Nipsa's general secretary, Alison Millar, said: "We condemn in the strongest possible terms a threat against any worker but especially those providing an excellent public service for all our communities.
"I call on those responsible to withdraw this threat immediately and allow our members in probation to provide the valuable support necessary in rehabilitating offenders, many of whom have very complex needs."
A police spokesman told BBC News NI that the PSNI "does not discuss the security of any individual or group".
"If we receive information that someone may need to review their security, we will take steps to inform them accordingly," he added.