Larne attempted murder accused William McCalmont bailed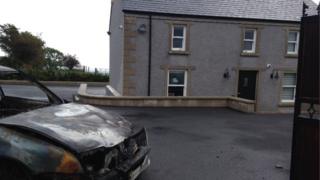 A 23-year-old man has appeared in court charged with attempting to murder a young family at their home in Larne, County Antrim.
Shots were fired into a bedroom of James and Aislinn Hassin's home on Brustin Brae Road as the couple's three children slept inside last Monday.
William McCalmont, from Wellington Green in Larne, was also charged with a number of other offences.
Ballymena Magistrates' Court heard the offences are linked to an ongoing feud.
No-one was injured in Monday's shooting, but a hijacked car was driven through the gates of the property and set alight outside the garage.
Mr McCalmont is further charged with hijacking a vehicle, possession of a firearm, aggravated vehicle taking and criminal damage to a car.
He is the second person to appear in court, charged in connection to the attack.
On Wednesday, a 30-year-old man who was also charged with attempted murder was remanded in custody.
'Alibi'
In addition to the Larne offences, Mr McCalmont was charged over an incident in the Antrim area on 18 August.
He is accused of attempted aggravated burglary and possession of an offensive weapon.
A police constable told the court that officers are aware of a feud between loyalist paramilitaries and the Hassin family which began in April.
The officer confirmed Mr McCalmont had an alibi but said he believed he could connect the accused to the charges.
He said that while detectives cannot place him at the scene of the attempted murder, they are awaiting the results of forensics tests and will be examining phones.
Mr McCalmont was released on bail but must wear an electronic tag, adhere to a curfew and stay away from Larne.
He is due to appear again in court on 5 October.