Newspaper headlines: Bilingual signs and Buckfast
By Caroline McClatchey
BBC News NI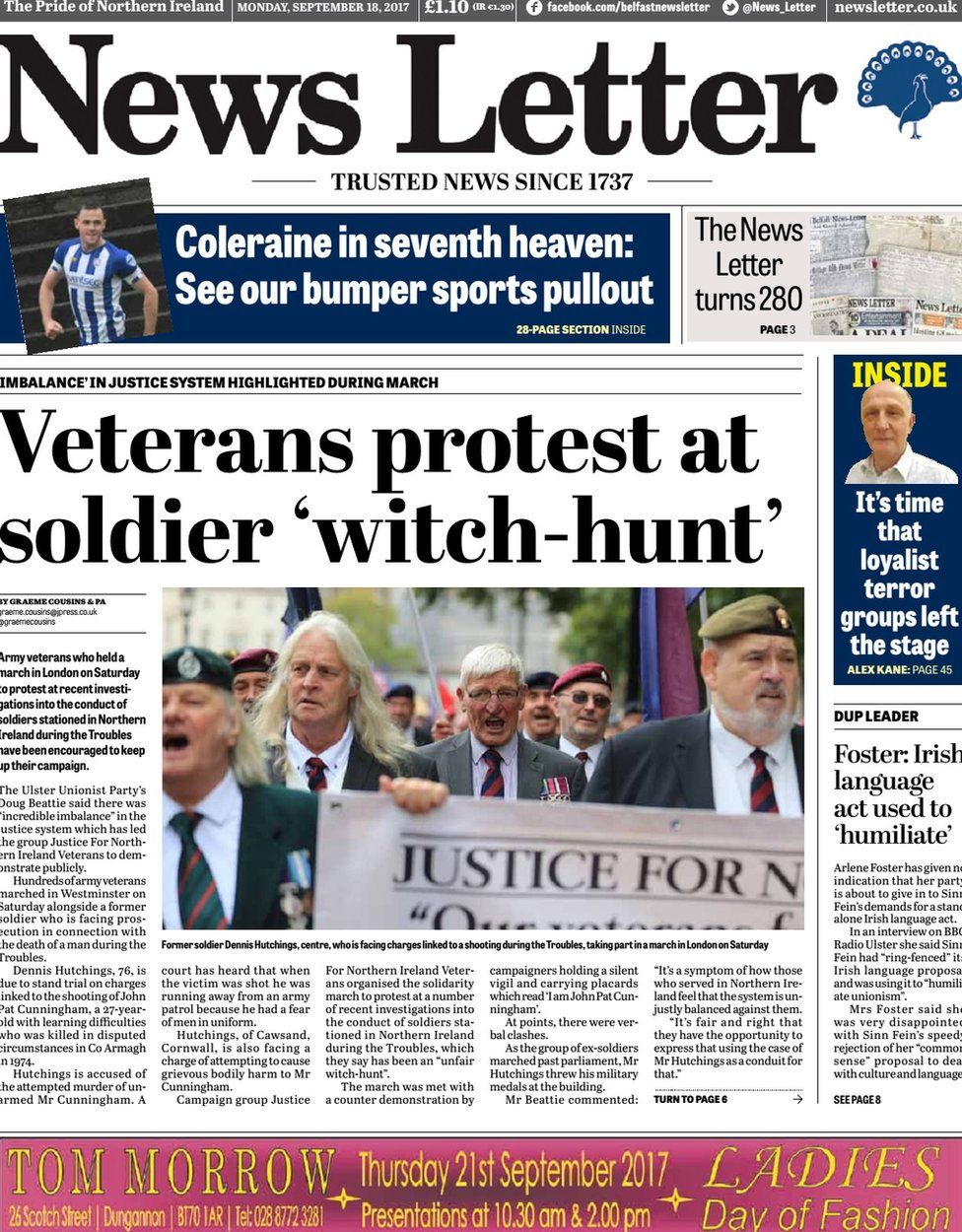 New figures on the religious breakdown of schools make the front page of the Belfast Telegraph.
Barry Mulholland, chief executive of the Controlled Schools Support Council, said some have an almost 50/50 religious balance and others are more than 90% Catholic.
The paper says controlled schools - which are managed and funded by the Education Authority through a board of governors - account for just under half of all schools in Northern Ireland.
Mr Mulholland says the figures will dispel the myth that it is known as the "Protestant sector".
The paper carries the grim statistic that her death brings the number of people killed on Northern Ireland's roads this year to 41.
Another story appearing in most of the papers is Arlene Foster's wide-ranging interview with BBC Radio Ulster's Sunday News programme.
The DUP leader said cutting the pay of Stormont politicians could not be used "as a stick" to encourage progress in the power-sharing talks.
Needless to say, the interview raised a few eyebrows and responses and the Belfast Telegraph runs a few of them.
"Not having anybody at Stormont to approve cancer tests and drugs which could save lives is offensive," he said. "Not having politicians doing the job they are well paid to do is offensive."
The News Letter picks up on her comments about the Irish language - one of the main stumbling blocks in attempts to restore devolution.
A UUP councillor said one of the signs has had the "top cut off once, been spray painted and had acid poured on it".
"The question needs to be put to Newry, Mourne and Down District Council, how much ratepayers' money will they continue to put into this?" said Glen Barr.
"And if they have an Irish language act, how much will it cost the public?"
Another story which has taken-off (excuse the pun) is Ryanair's announcement that it would cancel 40 to 50 flights every day for the next six weeks.
The paper quotes one passenger - due to fly from Knock to London on Wednesday: "It's just disgraceful that Ryanair won't tell people if their flights have been cancelled."
In its editorial, the paper says the way the firm has treated its passengers is "outrageous" and calls for it to face sanctions.
And finally, while most people appearing in court would just want a good lawyer with them, it seems cakes slices and alcohol are also desirable for some.
The vast majority of items were confiscated in Coleraine and they included pen knives, screwdrivers, nail clippers, "survival tools" - and Buckfast.