Fire engine crash: Robert Duffin 'unfit' for trial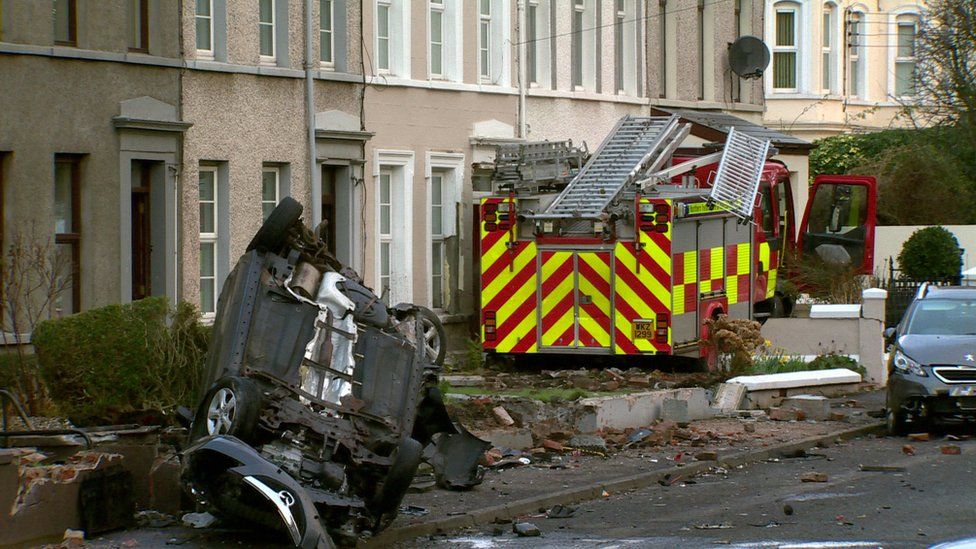 A County Antrim pensioner will not be prosecuted over an incident in which a stolen fire engine caused damage estimated at £1.5m.
The vehicle was taken from Larne fire station and crashed at Glenarm Road in the town in March last year.
Robert Duffin, 68, was deemed by psychiatrists to be "unfit" to stand trial.
The pensioner, said to have had a "fascination for blue lights", faced 11 charges following the incident.
Mr Duffin had faced a charge of the aggravated taking of the vehicle from its Agnew Street station, and ten charges of criminal damage.
However, a prosecution barrister told Antrim Crown Court that in light of medical reports, charges against Mr Duffin should "remain on the books not be proceeded with".
Mr Duffin is originally of Curran Road in Larne, but is now living with the Simon Community.
Eight vehicles and five houses were damaged by the fire engine before it was halted when it hit the front of a sixth property.
Ross Clarke, 20, originally of Fairway in Larne, the driver of the stolen fire engine, is due to be sentenced later this month.
Mr Clarke, now with an address in Rathcoole, Newtownabbey, has pleaded guilty to a total of 21 charges, including the aggravated taking of the fire engine and causing damage to a wall of the Larne station.
Mr Clarke, who is said to have a "severe learning disability", also admitted attempted burglary, dangerous driving, driving without insurance, and failing either to report, stop, or remain at the scene of an accident.