Marion Millican's husband recalls laundrette body find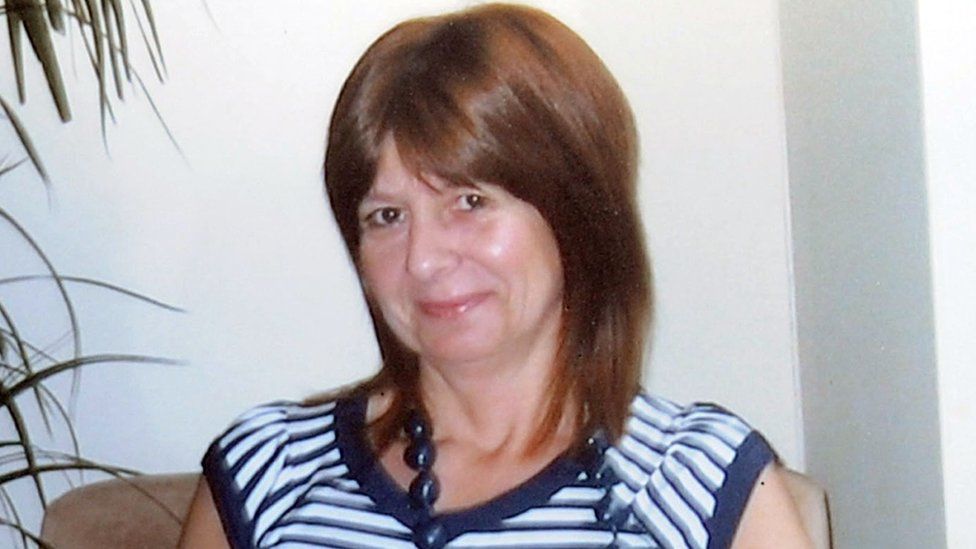 The estranged husband of a woman shot dead in a Portstewart laundrette has told of the moment he found her dead.
Marion Millican, a 51-year-old mother-of-four, was shot at the laundrette where she worked on 11 March, 2011.
Her ex-boyfriend Fred McClenaghan, 55, from Broad Street in Magherafelt, denies her murder.
A court heard Ken and Marion Millican had separated amicably in 2009, but were in the process of getting back together when she was killed.
In a witness statement read to Belfast Crown Court, Mr Millican said that he and his estranged wife had known Mr McClenaghan socially and had attended the evening reception of his daughter's wedding together.
He said that although he and his wife had separated, they kept in touch.
He recalled that their children had taken Mrs Millican out for her 50th birthday, but he was unable to make it because of work.
Mr Millican said he had called his estranged wife at 01:30am to see how her birthday night out had gone, but her phone was engaged.
He said it was then that he began to suspect she was seeing someone else.
He said that during this time, Mrs Millican's appearance had "gone downhill" and she had lost a lot of weight.
Mr Millican said that contact between he and his estranged wife lessened during 2010, but that in December 2010, she told him that her relationship with Mr McClenaghan was definitely over.
By New Year's Eve, the Millicans had decided to give their marriage another try, and Mr Millican said Marion Millican began to confide in him about her relationship with Mr McClenaghan.
He said that after a night out at a bar in Magherafelt, County Londonderry, Mrs Millican alleged she had been taking her boots off at Mr McClenaghan's flat when he punched her in the side of her face without warning and knocked her out.
He said Mrs Millican recalled "coming round" with her boots half-on, half-off.
Mr Millican said that on another occasion, his estranged wife claimed Mr McClenaghan turned to violence when she stopped to speak to a female when they were walking out of a bar for a smoke.
She told him that on that occasion, Mr McClenaghan allegedly put his hands around her neck and had said she "belonged to him and nobody else".
Mr Millican said that on 11 March 2011, he received a "hysterical" phone call from Mrs Millican's workmate who said: "Ken, Ken get down here quick, the f****** got a gun."
He said he then drove to the laundrette and found his estranged wife lying over a manhole cover.
Mr Millican said that at first he did not know she was dead, but that he then discovered blood around her chest, which was running down the manhole, and realised Mrs Millican had been killed.
In a statement, Mr Millican said he had not wanted to leave Mrs Millican alone, and insisted that a blanket be placed around her and a pillow put under her head.
The court also heard a statement from the laundrette's owner who said she had seen marks on Mrs Millican who then told her: "That's it, no more, I'm not seeing him anymore."
She said Mrs Millican had pointed at a broken tooth and said "that was him too", referring to Fred McClenaghan.
The court was told that when answering a phone call from a police hostage and crisis negotiator following the shooting, Mr McClenaghan had asked: "How's Marion, is she okay?"
It was heard that after his arrest, Mr McClenaghan told a police officer: "It should be me lying there."
The officer described his demeanour as "quiet and relaxed". When asked by a defence barrister if Mr McClenaghan could be described as "subdued", the officer said this was accurate.
The court also heard that after the shooting, a letter was found in Mrs Millican's home from Mr McClenaghan detailing his struggle to deal with the sexual abuse that he had allegedly suffered as a child at the hands of a policeman.
In the letter, which was read to the court, he wrote: "I'm not a bad person. When I got drink in I just lashed out. You know when I wasn't drinking we were good together."
He added: "I love you more than words can say."
In a letter found on Mr McClenaghan's person after his arrest, that was also addressed to Marion Millican, he wrote: "I'm sorry for what I'm going to do in front of you.
"All I wanted to do was talk. Bye."
The court was also read a third letter from Mr McClenaghan to another woman which appeared to detail his funeral plans and instructions for selling his belongings.
He wrote: "The only way I will get peace of mind is when I'm gone.
"Don't think bad of me. God will forgive me when I ask him."