Bombardier jobs: Boeing accused of 'pure hypocrisy'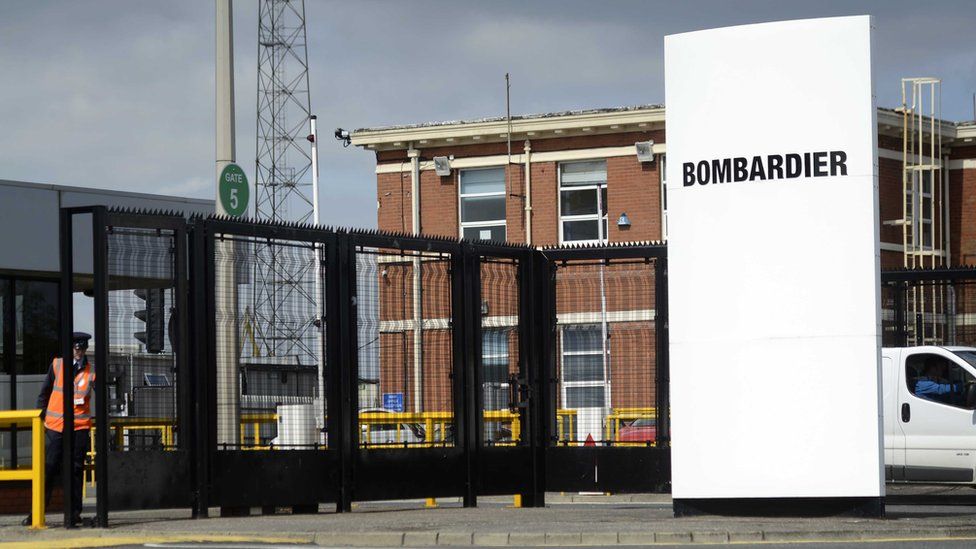 Northern Ireland's largest manufacturing employer has hit back at a rival firm over a trade dispute that could threaten jobs in Belfast.
Canadian aerospace firm Bombardier has accused Boeing of "pure hypocrisy".
Boeing had complained about alleged anti-competitive practices in the sale of Bombardier's C-Series jet.
She said she would be "impressing on (Mr Trump) the significance of Bombardier to the United Kingdom and particularly... to jobs in Northern Ireland."
In 2016, Bombardier won its biggest ever order to provide its C-Series passenger plane to Delta, a major US airline.
Boeing had alleged that Bombardier had engaged in "price dumping" by agreeing to sell 75 of its planes for almost $14m (£10.6m) below their cost price.
It wants the US government to hit Bombardier with punitive tariffs.
On Monday, it said that Bombardier must sell its aircraft "according to globally-accepted trade law".
"We all have a shared interest in a level playing field. This is what this dispute is about."
However, in a statement, Bombardier said while it shares Boeing's "commitment to a level playing field", the rival firm "were not even on the field".
"Delta ordered the C-Series because Boeing stopped making an aircraft of the size Delta needed years ago," the statement said.
"It is pure hypocrisy for Boeing to say that the C-Series launch pricing is a 'violation of global trade law' when Boeing does the same for its new aircraft.
"Boeing's self-serving actions threaten thousands of aerospace jobs around the world, including thousands of UK and US jobs and billions of purchases from the many UK and US suppliers who build components for the C-Series."
Bombardier called on the US government to reject "Boeing's attempt to tilt the playing field in its favour and impose an indirect tax on the US flying public through unjustified import tariffs".