Newspaper headlines: Ryanair woes and a Celtic proposal
By Caroline McClatchey
BBC News NI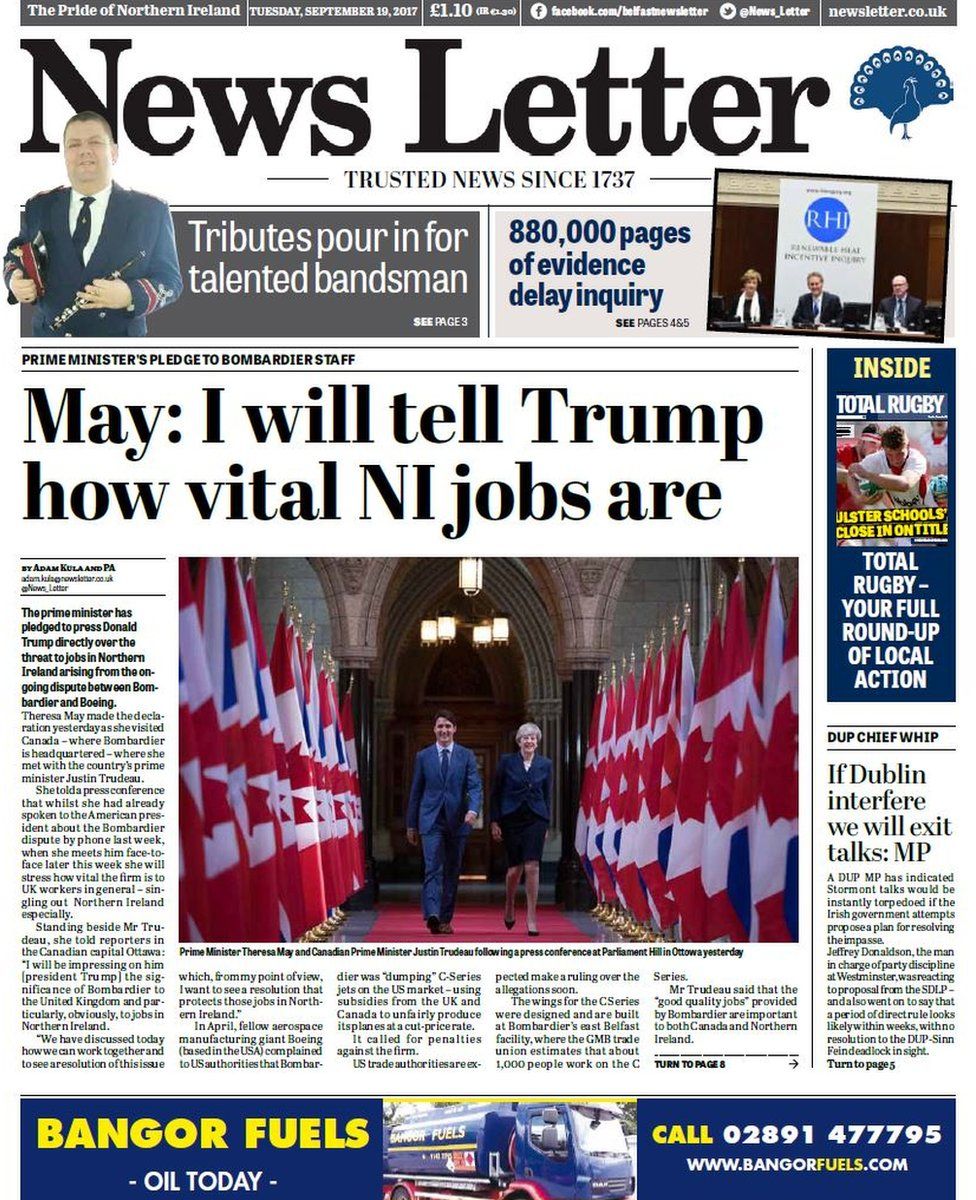 Everyone is talking about Ryanair and so are the papers.
The budget airline is cancelling 40-50 flights every day for the next six weeks, after admitting it had "messed up" the planning of pilot holidays.
More than 120 pilots attended three "militant" meetings in Dublin on Monday, where a ballot for industrial action was discussed, says the Telegraph.
About 400,000 passengers will be directly affected by the cancellations and the paper has found a few disgruntled locals.
Bangor man Desmond McDowell and his wife, Phyllis, are on holiday in France and their daughters were due to join them.
But Ryanair cancelled their plane out of Dublin on Friday and as alternative flights were too expensive, the girls ended up taking a ferry from Rosslare and driving through France to reach their parents.
The Daily Mirror leads on the story, with the headline "The Shaming of Ryanair".
A source told the paper the airline was having recruitment issues: "Ryanair is massively short staffed over the summer so pilots used up their flying time and now need to take the leave. They legally can't do more hours."
It features a picture of UK Prime Minister Theresa May alongside her Canadian counterpart Justin Trudeau, with the headline: "May: I will tell Trump how vital NI jobs are".
While on a visit to Canada, she told a press conference she would stress how vital the Canadian aerospace firm was to Northern Ireland workers when she meets US President Donald Trump face-to-face later this week.
It adds that Bombardier is NI's largest manufacturing employer and "Mrs May is understood to have been pressed to take action by DUP leader Arlene Foster, whose 10 MPs are propping up the minority Conservative government".
Sir Patrick Coghlin, who is investigating the so-called "cash for ash" scandal that brought down the Stormont executive, said the public hearings would be delayed as a result.
The paper understands the team of lawyers and administrators working to support the retired judge has "swollen from 10 to about 35".
The first public evidence session will now take place a month later than billed on 7 November, with the first witnesses not appearing in public until 28 November.
Research from the Stroke Association comes amid a major consultation on a shake-up of stroke services, which are currently spread across 11 hospital sites. The paper says there are concerns that medical expertise is spread too thinly and that they should be at least halved.
However, the Housing Executive said less than 1% of its total stock was vacant - better than most other UK social housing landlords.
Celtic boss Brendan Rodgers gave Nicki Lynch permission to get down on bended knee on the hallowed turf after the team's win over Ross County at the weekend.
Luckily, Belfast girl Caity Ryan did not produce a red card.
"Caity was in pieces, she was so emotional," said Mr Lynch. "I'm sure she was more excited at meeting Brendan than about getting married."