Parking scheme frustrates Belfast Holyland residents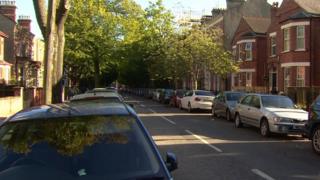 Residents in Belfast's Holyland area say they are frustrated at the lack of a parking scheme for the area more than 10 months after it was first announced.
The scheme for College Park Avenue and Rugby Road was given the go-ahead by former Infrastructure Minister Chris Hazzard last November.
At the time the department said it could be in place by this summer.
The scheme was set to provide 117 parking spaces for residents and 127 pay and display spaces.
These will be supplemented with short stay parking spaces on Rugby Road and a loading bay in Carmel Street to facilitate local businesses.
But residents say they have no idea when it is going to be implemented.
"We would have expected to have it in place," said Brid Ruddy of College Park Avenue Residents' Association.
"It was said by the end of the summer, we would really have expected it would have been in place by now.
"And we would have expected it in place before the students came back, because that was the whole point, before the congestion began.
"It really is a puzzle."