Ryanair grounds Belfast flights for four months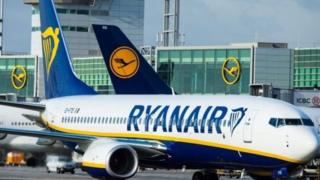 Ryanair has confirmed that its Belfast to Gatwick service will be suspended from November until March.
It is one of 34 routes which will be grounded for the winter season, after the company said it would "slow its growth".
Ryanair's chief executive Michael O'Leary apologised for what he called "sensible schedule changes".
However, people from Northern Ireland whose flight plans are disrupted have been left deeply disappointed.
Among them are St Agnes' Choral Society in Belfast whose plans for a 60th anniversary trip to London are now in jeopardy.
Chairman Gareth McGreevy said news of the flight cancellations was a complete surprise.
The group had been due to travel to London on 1 November, but when one of their members went onto the Ryanair mobile app to check timings, they found the return flight had been cancelled.
"This trip has been planned since June - the flights, hotel and theatre tickets were all booked and paid for," he said.
"There was a great buzz about the trip amongst the company but this news broke late last night with no advance warning.
"Any alternative arrangements are now costing over double the price leaving the trip in doubt for many."
Stephen McCormick said he had booked December flights for himself and his partner for London via Ryanair to visit his son and watch Ulster's European Rugby Cup clash against Harlequins.
He said he was alerted to a potential problem via social media on Wednesday morning.
"I then went on to the Ryanair website with my booking reference and it came up that both flights had been cancelled," he added.
"I had originally booked for 7 to 11 December, I have now booked another flight with EasyJet which was about £30 dearer for the same time."
In all, Ryanair said it would be flying 25 fewer planes from its 400-strong fleet from November and 10 fewer planes from April.
In a statement, Mr O'Leary apologised sincerely but said more than 99% of the company's 129m customers will not be affected.
"We deeply regret any doubt we caused existing customers last week about Ryanair's reliability, or the risk of further cancellations," he said.
The Ryanair boss said all of the passengers who had been affected by these disruptions had now been offered re-scheduled flights or full refunds and their applicable EU261 entitlements.
In addition, they will receive a travel voucher - 40 euros (£35) for a one-way ticket or 80 euros for a return trip - which they may use to book any Ryanair flight of their choice for travel between October and March 2018.
Last week, the company said it was cancelling 40-50 flights every day for the next six weeks, after it admitted it had "messed up" the planning of pilot holidays.
Michael O'Leary said some pilots had been offered a 10,000-euro pay rise in exchange for helping out.
He told the Ryanair AGM that the offer applied to pilots at London Stansted, Dublin, Frankfurt and Berlin airports.
This is on top of a cash bonus already offered to pilots, which has been given a frosty reception.
Ryanair had offered captains a one-off payment of £12,000 and first officers £6,000, but representatives said they wanted new contracts and better working conditions instead.
The airline began operating from Belfast International Airport last year.
The other airline providing a service to Gatwick from the airport is easyJet.