Seamus Kelters, BBC journalist and author, dies aged 54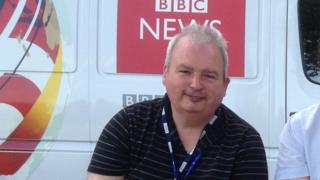 Tributes have been paid to BBC journalist Seamus Kelters following his death on Wednesday.
Mr Kelters, who died aged 54, was the assistant editor of BBC Newsline.
He was the co-author of 'Lost Lives,' a critically acclaimed reference book which documented every death directly caused by the Troubles.
A former pupil of Rathmore Grammar in Belfast and Queen's University, Mr Kelters began his journalistic career at The Irish News where he worked on a number of high-profile investigations, including the wrongful convictions of the Birmingham Six.
He started working at the BBC in the early 90s as a broadcast journalist and worked on many programmes, including Spotlight and Hearts and Minds.
For the last number of years, he produced BBC Newsline.
Peter Johnston, Director of BBC Northern Ireland, said: "Seamus Kelters was the epitome of BBC journalism and a central figure in the Belfast newsroom for decades.
"He also brought his great skill and knowledge to his significant contribution to public life beyond the BBC and in advising so many young journalists.
"He will be very sadly missed by us all."
Kathleen Carragher, Head of BBC News NI, said: "I'm so saddened by this news.
"Seamus was a highly-valued colleague and friend and a huge part of the newsroom.
"He will be sadly missed by us all and we send our deepest sympathies to Camilla and his sons."
BBC News NI reporter, and National Union of Journalists head of chapel, Mervyn Jess said: "He was a trade unionist through and through and never flinched from standing up for the rights of his colleagues when called upon.
"He was also a voice of quiet calm and reason during some of the more heated debates in NUJ chapel meetings over the years.
"When Seamus spoke, people listened."
BBC News NI home affairs correspondent Vincent Kearney tweeted: "Seamus Kelters: Always a smile. Always a kind word. Always a helping hand. Saw good in all. A storyteller. A true friend. A dreadful loss."