Elderly 'hit hardest' by proposed cuts in Northern Ireland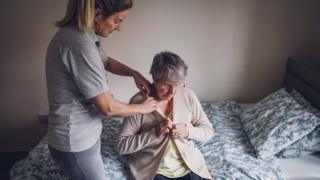 More than half the savings proposed by Northern Ireland's heath trusts are likely to affect the elderly, the commissioner for older people has said.
Eddie Lynch said older people will be hit hardest by £70m in planned cuts.
Mr Lynch said cost-cutting measures included reducing new domiciliary care packages and care home placements by two thirds and stopping the provision of community meals.
He said he was "deeply concerned" by the plans.
Mr Lynch said that he had been contacted by many elderly people over the last six weeks who are concerned about proposed cuts.
"My office has looked at these pay cuts in a lot of detail - we see that over half of the £70m savings will directly affect services directly affecting older people," he said.
"I'm very concerned with proposed cuts around things like:
Domiciliary care packages
Home care packages,
Community meals
"Things that older people in the community really depend on to live independently."
He added: "I'm really concerned that the negative impact of reducing these types of services will lead to a deterioration of the health of many older people across Northern Ireland.
"And the last thing we need as we entre the winter months is an increase in hospital admissions and I think that's the likely result of these cuts if they were to go ahead."
Mr Lynch said he appreciated the trusts had "extremely difficult decisions to make", but urged them, along with the Department for Health, to consider the real impact the cuts could have on older people.
'Less protection for disabled'
Meanwhile, Northern Ireland is lagging behind the rest of the UK when it comes to disability legislation, according to Disability Action Northern Ireland.
Northern Ireland's Disability Strategy has expired in March and a draft action plan waiting for executive approval.
Karen Hall, from Disability Action Northern Ireland, said: "In terms of protection under the law we haven't increased the level of protection to the same level as under the Equality Act 2010 in GB.
"Disabled people here have less protection under the law in areas like direct and indirect discrimination.
"So we want to see that law developed for Northern Ireland so that disabled people have the same level of protection.
"It helps in areas like employment, but also for people who may have care and responsibilities as well."