Stormont crisis 'creates problems' for police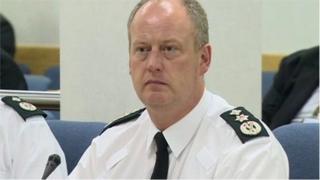 The chief constable has said the deadlock at Stormont is creating problems for the police budget.
George Hamilton told BBC Radio Ulster's Inside Politics the Police Service of Northern Ireland (PSNI) was "sort of getting month-by-month budgets".
"I hope it won't continue. I'm wishing the politicians well in getting their differences resolved, but this is not ideal", he said.
Northern Ireland has been without a functioning executive since January.
The institutions collapsed in January following a row between the DUP and Sinn Féin over a botched green energy scheme.
Several rounds of talks involving the British and Irish governments and the local parties have so far failed to reach an agreement.
'Difficult'
Mr Hamilton said that the lack of a proper policing budget meant "long-term financial planning around change and transformation in the organisation is ever more difficult".
The chief constable also referred to the ongoing cost of dealing with Troubles-era cases, which he said was a major draw on resources.
He said that, with an end to separate funding for historical investigations, the PSNI had to take detectives away from current investigations "to either investigate, or deal with disclosure pressures, and that's a problem for us".
Mr Hamilton also expressed concerns about a lack of police accountability as the Policing Board remained without any party political members.
The board is supposed to have ten politicians and nine independent members.
"We haven't met formally and in public throughout this calendar year," he said, adding that he continued to meet political representatives despite this.
"Not having the full-blown Policing Board in place is, I think, a deficit for policing," the Chief Constable added.
Parties in deadlock
Power-sharing broke down in Northern Ireland in January, when the late Martin McGuinness, of Sinn Féin, resigned in protest against the DUP's handling of an inquiry into the Renewable Heat Incentive scheme.
His party had demanded that DUP leader Arlene Foster step aside temporarily to allow an investigation into the scheme she set up, but Mrs Foster refused.
Over the past nine months, and during two elections at Stormont and Westminster, the two parties have remained deadlocked over a number of issues.
The most significant sticking points between the parties are disagreements over an Irish language act, same-sex marriage, a Bill of Rights and measures to deal with the legacy of Northern Ireland's Troubles.
You can hear the interview with George Hamilton in full on Inside Politics on BBC Radio Ulster at 18:10 BST on Friday, on Saturday at 13:35 BST, or on BBC iPlayer