Trump and Trudeau discuss Bombardier-Boeing row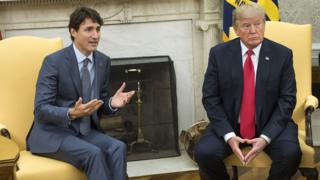 Canadian Prime Minister Justin Trudeau has said he told US President Donald Trump he vehemently disagrees with a US decision that threatens Bombardier jobs in Belfast.
Mr Trudeau and President Trump met on Wednesday in Washington.
The US government has imposed a 300% import tax on the C-Series jet made by Canadian aerospace firm Bombardier, which employs 4,000 people in NI.
The decision came over allegations of below-cost selling by rival Boeing.
The tariff could triple the cost of C-Series aircraft sold in the US and threatens a major order placed by US airline Delta.
The company has a $5.6bn (£4.15bn) deal for up to 125 jets.
Ed Bastian, Delta's chief executive. said the carrier would not foot the bill of the proposed tariff but would get the planes "at the agreed contractual price".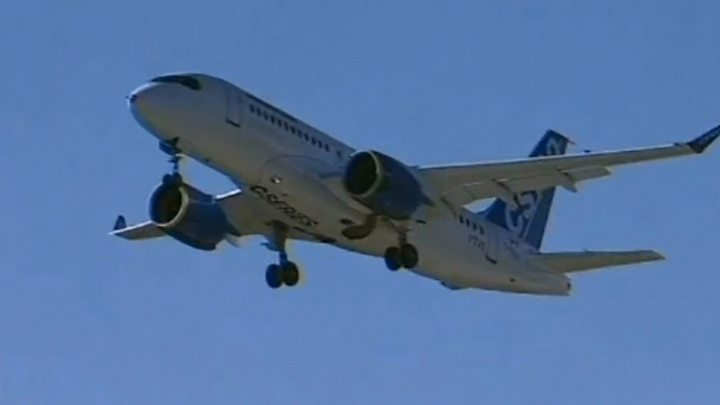 The row threatens jobs at Bombardier's Belfast plant, where parts of the C-Series jet, including the wings, are made.
Bombardier is one of Northern Ireland's biggest private sector employers.
Speaking after Wednesday's meeting, Mr Trudeau said he told Mr Trump the decision to impose a 300% import tax was "not something that is warranted and something we look very negatively upon".
He added that the move represented an attempt by Boeing to puts "tens of thousands of aerospace workers out of work across Canada" and would lead to Canada not using the US firm for military contracts.
On Wednesday, a group of Bombardier workers pressed MPs at Westminster to back efforts to protect jobs in Belfast.
The regional secretary of the trade union Unite, Jimmy Kelly, said the intention was to "impress on the government" that it must do more on the issue.
"It is not good enough to just phone Donald Trump," said Mr Kelly.
"We need the government to speak to Boeing in a way that makes them realise their contracts with them are under threat."
The government has said it will continue to "strongly defend out interests in support of Bombardier".
After the Bombardier workers held an hour-long meeting with Business Secretary Greg Clark on Wednesday evening, a union official told BBC News NI that Mr Clark "listened, but we now expect action".