Catwalk debut for teenager with Down's syndrome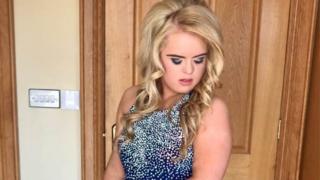 A teenager from Cookstown, County Tyrone, is preparing to become the first model with Down's syndrome to take part in Belfast's biggest fashion event.
Kate Grant and her mum Deirdre want to challenge perceptions of beauty and shine a light on discrimination faced by those with a disability.
Last Saturday, Mrs Grant posted on Facebook explaining her daughter's desire to walk the catwalk.
"She has the same aspirations as any other girl who wants to be a model," she wrote. "Please support her. Just maybe her dream will come true."
Now it looks like Miss Grant's career in the fashion industry is about to begin, after modelling agent Cathy Martin offered her a place on the catwalk at Belfast Fashion Week.
Speaking on BBC's Talkback programme, Miss Grant told listeners: "I want to be everywhere, all over the world, because I am brilliant.
"I want everyone to see me and I'll hold my head high."
'Do your thing'
The 19-year-old also spoke to other young women with a disability and said: "Do your thing."
She also explained that she had been inspired by the Australian model, Madeline Stewart.
Mrs Martin, who founded Belfast Fashion Week, told the programme she had been moved by Mrs Grant's Facebook post.
"It was shared with me so many times and I just thought I would love to help Kate," she said.
"It's amazing how passionate she is about modelling.
"Fashion Week starts on 26 October and we will have Kate taking part on 27 October in our high street show.
"I guarantee you, you will get the biggest cheer," she told the teenager.
'Strides are being made'
Mrs Martin said she wanted to see the face of fashion becoming even more representative.
"This could really be the start of something," she said.
"It's all about inclusivity, it's not that long ago that we were fighting to get curvy women on the catwalk, but strides are being made.
"Some people think the fashion industry is fickle, but it's not.
"If you feel amazing about yourself because you have put on a bit of lipstick or an amazing dress then that's a good thing."