School sports programme gets reprieve in funding boost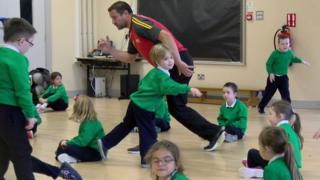 Funding has been found to keep a school Sports Development Programme going until next March, the Department of Education has confirmed.
It had been thought the primary school scheme, that employs 51 coaches, would cease at the end of October this year.
The scheme cost £1.3m last year and provides schools with a coach from either the GAA or Irish Football Association.
No guarantee has been given that the scheme will continue beyond March 2018.
Some £10m of extra money for education was reallocated by the finance department on Wednesday. - but it was understood the primary school sports curriculum was to be axed at the end of the month.
'Physical literacy'
Twenty-seven coaches are employed through the IFA and 24 from Ulster GAA.
The Department of Education had previously said cuts were necessary to ensure it remained within its budget, and said it was not in a position to continue the programme beyond 31 October.
In a statement on Thursday evening, the department said: "As a result of the recent monitoring round, an additional £10m has been allocated to the department.
"This has allowed the department to extend its support for the Curriculum Sports Programme until the end of the current financial year to cover the period from 1 November 2017 to 31 March 2018."
Speaking prior to the news that the scheme was going to continue, coach Pierce Caherty said he saw a "huge difference" in the movement, skills and fitness levels of the children he coaches.
"There is a small window to develop your fundamental movement skills and if you miss that window between P1 and P4 then it is almost lost for life," he told BBC News NI.
'Great boost'
In a joint statement, the Irish Football Association and Ulster GAA welcomed the extension of the funding.
"This is a great boost for our children and our schools as the Curriculum Sports Programme is about much more than football or Gaelic games," they said.
"It is about instilling the principles of exercise and overall physical wellbeing to children at a young age - an age at which they are most impressionable.
"We thank the Department of Education and the head of the civil service for listening to our concerns and for their efforts in finding additional finances at a time when budgets across government face significant challenges."