Two pipe bombs found in Dungiven security alert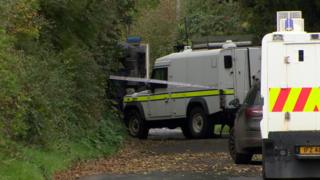 Pipe bombs have been found during a security alert in County Londonderry.
Searches were carried out in Dungiven after the police received a report on Thursday afternoon that "a device may have been left" on Derrychrier Road.
The pipe bombs were found on Friday and have been taken away for forensic examinations.
Sinn Féin councillor Sean McGlinchey said there was "no justification whatsoever" for the pipe bombs.
"Dungiven has become a dumping ground for objects like this," he added.
No-one is thought to have been moved from their home during the searches.
Supt Jeremy Lindsay said: "We are thankful for the cooperation and patience of the people of Dungiven as we worked to bring this incident to a conclusion and ensure the area was safe."
He appealed for anyone who noticed suspicious activity in the area to contact police.