Marie Conlon: Man charged with theft and fraud offences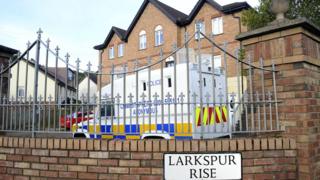 A man will face charges related to theft, fraud and preventing the lawful burial of a body after the death of a 68-year-old woman who lay undiscovered in a flat for more than two years.
Marie Conlon was discovered dead in bed at Larkspur Rise in west Belfast last Friday.
The man, 23, was arrested on Wednesday.
He has been released unconditionally in relation to suspicion of murder while further forensic examinations into how the pensioner died take place.
The man has also been charged with offences related to burglary.
He will appear in court on 6 November at Belfast Magistrates' Court.
Police have established that the last known sighting of Ms Conlon was in January 2015.
On Thursday, the PSNI said they believed her death occurred at around this time.
Her family said they were "shocked and heartbroken" to learn of her death.