Breast cancer warning after man's 'impossible' diagnosis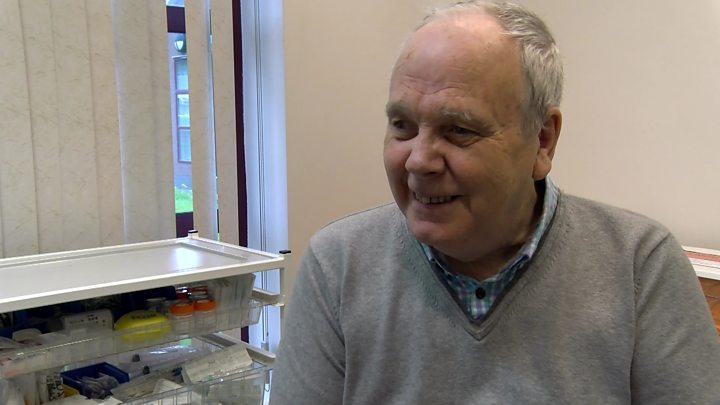 When you think of breast cancer, you think of a form of cancer that affects only women. It doesn't.
While breast cancer in men is rare it's still an issue for the 10 men on average who are diagnosed with it every year in Northern Ireland.
Ian Cranston, 70, was diagnosed with breast cancer in May. Two weeks later he had a mastectomy.
The Portadown father-of-two was given the all-clear in June and has decided to speak publicly to make men aware that it's a cancer that doesn't just affect women.
He said "men also need to check their breasts for changes".
Inverted nipple
In May, Ian's wife Elizabeth noticed something wrong when he got out of the shower.
She told him he had an inverted nipple and needed to see his GP.
"I didn't know what that meant," said Ian.
"Men can't get breast cancer, I don't have to go to the doctor.
"I wasn't aware I had breasts. This is my chest, men don't have breasts, it's impossible," he added.
Eventually his wife persuaded him to go to his GP, who referred him to Craigavon Area Hospital.
The diagnosis stunned him.
"Men having breast cancer, I couldn't believe it," he said.
"I couldn't do or say anything. My wife Elizabeth cried."
Four days later Ian said he "just broke".
He has decided to help try and raise awareness of the disease, saying that if his speaking out helped one man, it would be worth it.
"I can understand where women are coming from because I've had breast cancer myself," he said.
Signs and symptoms
In the past 23 years, 166 men have been diagnosed with breast cancer, according to the NI Cancer Registry at Queen's University.
While the majority of men diagnosed (99) are aged between 60 and 80, 26 men were under the age of 40. Forty were 80 years old or older.
Annie Treanor, a Southern Trust breast care specialist nurse, said: "Many people don't know that men get breast cancer because they aren't aware that men have breasts.
"But men do have a small amount of breast tissue behind their nipples and this is where breast cancer can develop," she added.
She said signs and symptoms to look out for are similar to that of a female and include:
An inverted nipple
A lump anywhere within the breast tissue
Nipple discharge
Ulceration or swelling