Apple scholarship for Teenage pigeon fancier's app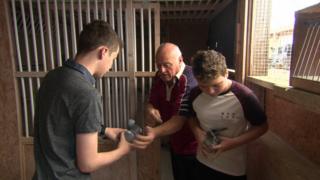 A County Down teenager who designed an app to help pigeon racers has won a prestigious scholarship from Apple.
Jack Delaney, from Dromore, designed an app to help pigeon racers work out what speed their birds are travelling at and how long it may take them to compete.
It is used thousands of times a week and was spotted by the bosses at Apple.
Fourteen-year-old Jack was flown to Silicon Valley in the summer where he attended talks by Apple CEO Tim Cook and former First Lady Michelle Obama.
"I was one of 350 scholarship recipients who were picked to go to the Worldwide Developers Conference (WWDC) in San Jose, California," he said.
Jack's inspiration came from his grandfather Gerald Delaney, who owns pigeon lofts in Dromore.
Mr Delaney has been racing pigeons for decades and now also competes against his son and grandchildren.
Jack, along with his cousin Ronan, 12, help their granddad get the pigeons ready for a practice race. There are tens of thousands of pigeons at his loft.
Mr Delaney had been trying to get his grandsons involved by giving them their own birds, but now they are starting to challenge him to titles.
Jack, who has autism, never used to like leaving the house or being around his granddad's pigeons.
As his award shows, he has a love of technology and likes taking computers apart and fixing them.
One day his granddad suggested they work together, combining his knowledge of pigeons with Jack's knowledge of computers.
"Just like that he started coming out of the house and down to the pigeons and now he can come to all the big shows with me, everywhere and converse with all the people," said Gerald Delaney.
"It just made a complete new fella of Jack.
"They have enjoyed racing, they have done a lot of winning," he said.
"The first time they won young fanciers of the year they asked Jack what his ambition was - he said to beat my granddad."
"The following year he did beat me. Four pigeons came up the field together, three to me and one to the grandchildren, and they beat me on the third decimal of a yard, which is a blink of the eye.
More than 20,000 pigeons were competing that day and the boys won the race.
"They have done it three times since then. There are pigeon fanciers who have been racing for 30 years who have never one it," said Gerald.
"Even though they might have taken Gerald's champion crown, he doesn't seem to mind.
"It's not about me winning. I've had my day of winning, Although I love winning," he added.
"You want to see your grandchildren do well. That's what it's all about bringing the next generation on, so they will hopefully be racing pigeons in the future and keep the name going."
The boys seem to enjoy it.
"It's amazing about the pigeons because you let them off so far and they always seem to be able to find their way back," said Ronan.
Now back in Dromore the work doesn't stop.
Jack, his apps, and his family, have plenty more races ahead this autumn.