NI paper review: North-south split over Ophelia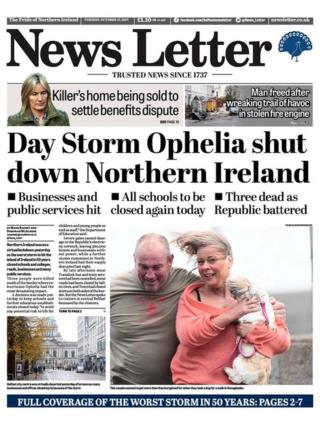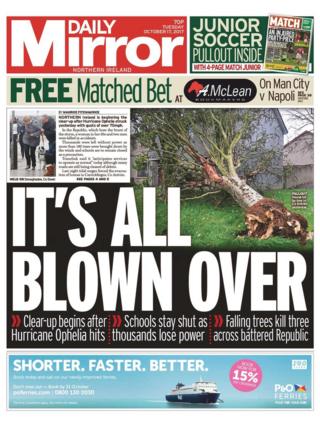 The impact of Storm Ophelia dominates the front papers of all Northern Ireland's daily papers.
The Irish News carries a picture of a fallen tree near Dunmurry, County Antrim, on its front page.
The paper tells us the Republic of Ireland bore the brunt of the storm with three people losing their lives.
The Irish News also details some of the incidents in Northern Ireland caused by Ophelia.
The News Letter takes a similar tack, concentrating on the effect the storm is expected to have on Tuesday, with schools to remain shut for a second day.
The paper's lead image is of a couple, carrying a wee white dog, smiling as they battle the breeze in Donaghadee, County Down.
"It's all blown over," is the lead headline in the Daily Mirror. It says that Northern Ireland is now beginning the clean-up after the storm.
North versus south
The Belfast Telegraph also leads with Storm Ophelia, telling us that in the opinion of a leading economist, the bill for the damage could cost £30m.
The Telegraph's editorial examines the differing approaches to Ophelia in the Republic of Ireland and in Northern Ireland.
The Telegraph is of the opinion that the reaction from Dublin was superior to that north of the border - because, it says, Northern Ireland does not have a "functioning government".
The editorial also criticises those who "seemed determined to put themselves in harm's way, either by walking by shorelines or in wooded areas".
In its editorial, the Irish News takes a similar position to the Telegraph, again saying that apparent differences in the way authorities dealt with the storm as being down to the Republic having "a fully functioning government while Northern Ireland does not".
United Ireland 'high unlikely'
The News Letter, like all the other Belfast papers, has the story that Hazel Stewart's family home must be sold to settle a legal action over benefits inherited from her first husband, Trevor Buchanan.
Stewart was convicted of murdering Mr Buchanan and an ex-lover's wife, Lesley Howell, in 1991.
The National Crime Agency made the legal bid to recover assets gained by Hazel Stewart following her husband's murder.
However, Hazel Stewart's current husband, David Stewart, told a court that the effect of the court order would be that "not one penny will come from Trevor Buchanan to his children".
The News Letter's editorial welcomes comments from Taoiseach (Irish PM) Leo Varadkar that he would not like to see a narrow vote in favour of a united Ireland.
The paper challenges southern politicians not to give "republican grievances" legitimacy which it says make "a 50% plus one" vote in favour of a united Ireland more likely, albeit a "highly unlikely" one.