NI local paper review: Attack on pensioners and cycling ban bid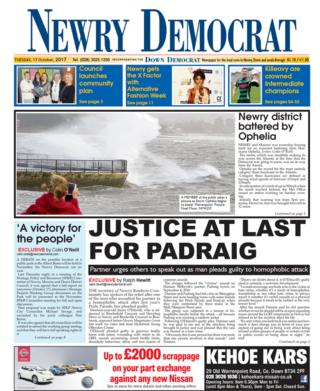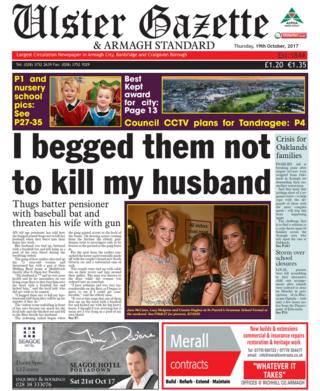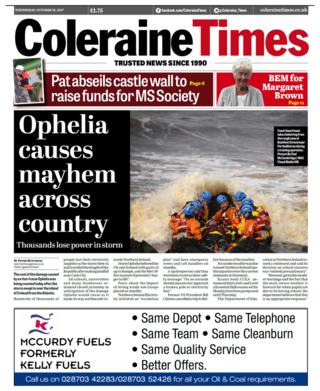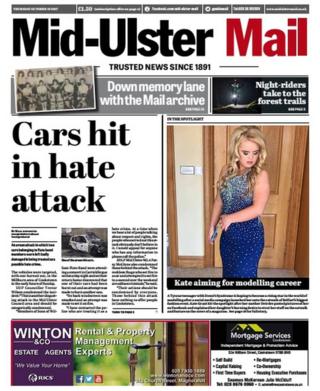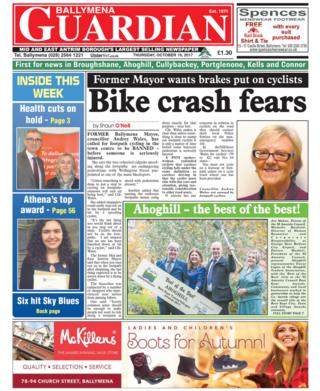 Local newspapers cover many stories which do not make it into regional or national outlets - but that does not mean that they are not important.
They are, and often they can make national stories seem more immediate and real for readers, this weeks local papers in Northern Ireland are no exception.
"Justice at last for Padraig," is a good example, it is the front page splash in the Newry Democrat.
It comes after 19-year-old James O'Driscoll, of Derrybeg Drive of Newry and of Brookefield Cresent in Bessbrook, pleaded guilty to a number of offences relating to an attack on Newry man Padraig Lynch in September 2016.
Mr Lynch was walking home from a bar in Newry with his partner Damian McKevitt after a Pride march when they were set upon by three men.
Gay-rights
Mr McKevitt, who is secretary of Newry Rainbow Community, welcomed the conviction and said he was relieved, but also said that there was more than one person involved in the attack and they have yet to see justice.
Mr McKevitt said that much progress had been made in relation to gay rights issues in Newry, but that there were still homophobic incidents in the city.
Crime, sometimes horrific crime, fills many of the pages in local papers.
"I begged them not to kill my husband," is the dramatic lead headline in the Ulster Gazette.
A pensioner told the paper that she "begged armed thugs not to kill her husband" when they burst into their home last week.
The 72-year-old was tied up and threatened with a gun by four raiders in her home in Mullabrack, near Markethill, last Tuesday.
Her husband, who is 77, was tied up and battered with a baseball bat.
Their attackers made off with the couple's new car and a substantial sum of cash.
Local councillor Jim Speers described the raiders as the "scum of the earth".
Staying with crime, the front page splash in the Mid-Ulster Mail is: "Cars hit in hate attack".
The story relates to two cars, belonging to members of a loyalist flute band, burned out in Cookstown in the early hours of Sunday.
The incident happened in the Millburn area while the band members attended a concert in Carrickfergus, County Antrim.
Politicians have condemned the attack.
Call for crackdown on cyclists
Local politicians are an invaluable source of news for local papers and sometimes their views can be front page news in themselves.
For example, a former mayor of Ballymena wants cycling banned from footpaths in the town centre.
Audrey Wales wants the clampdown before someone is seriously injured, the Ballymena Guardian reports.
The Guardian has Councillor Wales' view as their front page splash.
The PSNI have provided the paper with a statement reminding cyclists that careless cycling falls under the same definition as careless driving and that cycling on footpaths is against the highway code.
Tally ho!
But it is not all bad news, many local papers feature articles highlighting the history of their areas.
For example, have you ever heard of the Royal Air Force Marine Branch?
The seaborne branch of the RAF, primarily involved in air-sea rescue, was disbanded in 1986.
It had a unit based at Portrush Harbour, RAF Marine Craft Unit No 1105.
The Coleraine Times has a news feature on the unit after a plaque commemorating members of the unit was unveiled at the harbour.
The RAF boats were stationed in support of Ballykelly air station which closed in 1971, the RAF left Portrush soon after.
Local newspapers can often champion the causes espoused by their readers and the Andersonstown News strikes a celebratory tone with its front page headline - "Top Marks".
The story concerns a High Court ruling overturning a decision by a former DUP education minister not to permit an Irish medium primary school in the Lower Falls area of west Belfast to relocate.
Peter Weir took the decision in June 2016, citing concerns over the school's sustainability.
Gaelscoil an Lonnáin has been at its current site since 2004 and wants to move to the nearby site of the former St Comgall's primary school which is due for redevelopment.
A parent of two pupils at the school mounted the legal challenge.
And talking of primary schools, the Andersonstown News uses a classic technique for getting people to buy the paper - pictures of their kids and grandkids.
The paper has a sponsored pull-out with pictures of the primary one pupils in all the schools in its catchment area.
It contains pictures of no less than 45 classes full of smiling faces as they set out into education, that's a lot of grannies.
Smuggling renaissance?
No one in Northern Ireland is a stranger to bonfires but in recent years the tradition seems to have become exclusively connected to the 11th Night celebrations - but what about Halloween Bonfires?
The Impartial Reporter has a two-page story on the Kilmacormick bonfire builders from Enniskillen and asks them why they keep this tradition going.
And talking about traditions, the paper asks could Brexit bring about the revival of another one - cross border smuggling.
Journalist Rodney Edwards spoke to business owners, politicians and activists along Fermanagh's now open border with the Republic of Ireland.
"Here women were said to have hid live turkeys inside their coats, pretending they were pregnant," he writes, "while men crammed butter; eggs and even bags of flour into their pockets as they crossed the two jurisdictions".
Some people in the border area believe that new hard border will see a renaissance in the illicit trade.
What there seems to be consensus on, however, is that there is great uncertainty about the issue and that is what is worrying business owners on both sides of the border.