Car death co-accused hands himself in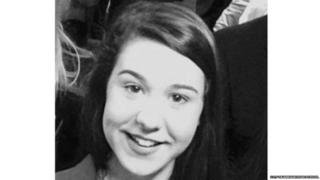 A man charged in connection with the death of Armagh teenager Lesley-Anne McCarragher has handed himself in three months after he was due in court.
Damien Paul McCann, 30, of Monaghan Road, Armagh is jointly charged with causing death by dangerous driving and causing death while uninsured.
He walked into Armagh Courthouse on Tuesday and was immediately arrested.
The case was not scheduled for mention, and co-accused Nathan Finn, 18, of Keady Road, Armagh, was not present.
Ms McCarragher, 19, was jogging along the Monaghan Road when she was struck by a vehicle on 9 April 2016.
'Actively evading police'
Mr McCann was the subject of a European arrest warrant, which was being finalised in the Republic of Ireland.
Previous court hearings were told McCann was "actively evading police" and strenuous efforts were being made to locate him.
Opposing bail, a police inspector stated that: "if released we fear there is a risk of flight".
He said that, when officers called at Mr McCann's home address, his wife refused to state where he was. Other family members were spoken to, but they also failed to co-operate with enquiries on his whereabouts.
Mr McCann's lawyer said his client had voluntarily made a statement to police, and understood he was only a witness.
'Highly unusual'
He continued: "He always believed Mr Finn was driving the car which struck the pedestrian and therefore, it was Mr Finn's case.
"My client made a mistake. It would be highly unusual for man who handed himself in to have bail opposed."
The judge refused bail stating that: "Given his defiance and evasiveness to date, the risk is too great."
Mr McCann and Mr Finn are now to appear for a formal committal hearing later this month.
Lesley-Anne McCarragher's family were not present in court, but were immediately informed by police of McCann's arrest.