Hurricane Ophelia: Two days off school 'ridiculous'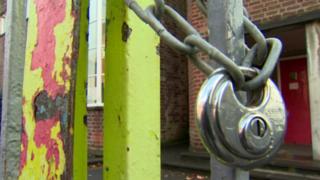 Schools and colleges in Northern Ireland are closed for a second day following advice from the Department of Education (DE) about the "potential severity" of Hurricane Ophelia.
Permanent secretary Derek Baker said the decision was taken "to avoid any potential risk to life".
However, with the worst of the storm over, some parents said the decision was "ridiculous".
Others said the closures would ensure damaged properties were repaired.
The Republic of Ireland was worst hit with three people killed in separate incidents.
The announcement to keep schools closed in Northern Ireland on Tuesday was posted in a tweet from the DE account on Monday afternoon.
Some parents welcomed the decision, saying the safety of children was paramount.
Others called for schools to be closed for even longer due to potential travel dangers.
Some parents suggested that the half-term break should be adjusted to make up for the extra days lost as a result of the storm.
However, children will be back at their desks on Wednesday, according to a tweet posted by the DE account.