Hurricane Ophelia: Newlyweds pose for pictures at cliff edge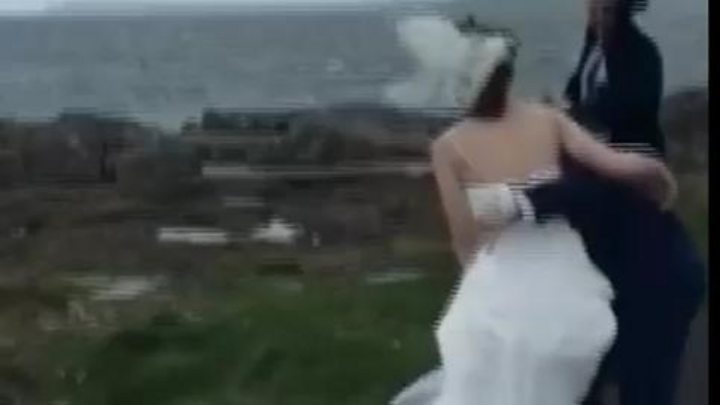 They say there is no point in worrying about the weather on your wedding day, after all it is the one thing you really can't control.
But what happens when your big day coincides with the arrival of an ex-hurricane?
Despite winds of up to 80mph battering Northern Ireland, towns shutting up shop and most public transport services being suspended, Thomas and Amber Hamilton's wedding went ahead - and so did their outdoor photo session.
Desperate to get those all-important snaps, the new Mr and Mrs Hamilton braved the weather at Ramore Head, a cliff face in Portrush, County Antrim after their ceremony at Portrush Town Hall on Monday.
The bride, from Wisconsin, told BBC News NI she was no stranger to extreme weather.
As part of her job, she had been repairing land documents damaged during Hurricane Katrina when she first met her husband-to-be, who is from Coleraine, County Londonderry.
"I was a bit worried in the days leading up to the wedding, but there was no way we were going to change the date, we had too many guests travelling for the wedding," Mrs Hamilton said.
"Some of those guests came from the States and had witnessed Ophelia as a hurricane before she made her way across the Atlantic.
'Crazy'
"Obviously it's not ideal weather, but there was something really romantic about the shoot.
"I was trying to keep my veil on my head and keep a hold of my flowers, as well as my dress which was blowing everywhere.
"Thomas wrapped me up in a blanket and made sure it didn't fly off the cliff.
"When we got back to the reception and told our friends and family we were climbing rocks at Ramore Head, they probably thought we were crazy.
"But we had a plan, we are adventurous and we aren't afraid of a bit of weather."
Laura Moore, from Ali and Laura Photography, said Mr and Mrs Hamilton were exactly the kind of couple they loved to work with.
"They were up for anything to get those pictures," she told BBC News NI.
'Close to the edge'
"We were concerned, everything was closing down and we were watching the weather updates on our phones, but when they said they wanted to go we jumped at the opportunity.
"We wanted to get some really nice stuff, but obviously had to keep safety in mind.
"We kept having to say 'don't go too close to the edge'".
The couple embraced the storm head on and even had their first dance to 'Ophelia' by the Lumineers.
They have also vowed to go somewhere warm on honeymoon.