Bill Clinton meets Arlene Foster and Michelle O'Neill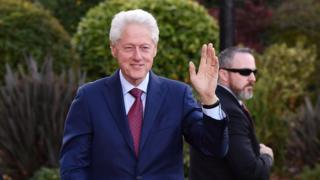 Former US president Bill Clinton has met with the leader of the DUP and Sinn Fein's Stormont leader during a visit to Northern Ireland.
The meetings with Arlene Foster and Michelle O'Neill took place outside Belfast earlier.
He was due to fly to Northern Ireland on Monday, but the trip was postponed due to Storm Ophelia.
Earlier, Mr Clinton received an honorary doctorate from Dublin City University.
In an address when receiving the honour, Mr Clinton called for mutual respect.
"The Good Friday Accord basically recognised that in an interdependent world which can be good, bad or both, human nature being what it is - an interdependent world is one in which you cannot get away from the other," he said.
"In such a world the great trick is to own your own identity, embrace your own tribe, but form a community in which what you have in common with those you can't get away from is more important than your differences.
"That's all it was."
Brexit
During his address in Dublin on Tuesday, Mr Clinton also suggested that some people who who had voted for Brexit were not fully aware of what they had voted for.
Mimicking a voter, he said: "I'm sorry we can't stay together, we had a disagreement. Oh my God, I didn't know I was going to lose that customs thing and all these economic benefits. Why didn't anyone tell me that?"
Mr Clinton added: "All partnerships that are community-based are held together not because everybody agrees with everybody else, not because we don't still have our particular identities, but because co-operation is better than conflict or isolation in any environment in which you must be in touch with others.
"It's a simple proposition. But we are re-litigating it now."