Irish PM: UK will be in 'weak trade position' post Brexit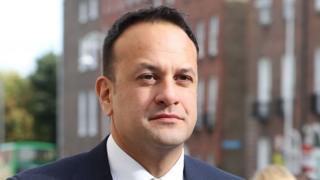 The Irish prime minister believes the commercial dispute involving aerospace firm Bombardier shows the UK government will be in "quite a weak position" negotiating trade deals with the rest of the world after it leaves the EU.
Leo Varadkar was speaking to BBC Northern Ireland's Spotlight programme
He plans to raise the Bombardier dispute with the European Commission President Jean Claude Juncker at the EU Council in Brussels at the end of this week.
The taoiseach said that "at least for so long as the United Kingdom and Northern Ireland is still in the European Union, we should be on your side in this regard".
Mr Varadkar said European leaders remain confused about what the UK wants to achieve in the Brexit negotiations other than "having it both ways, which of course isn't possible".
The fact that Theresa May's government is a "minority government, that there clearly are tensions within the government, doesn't help anyone" so far as the negotiations are concerned, he added.
The taoiseach spoke about the limits which may be placed on any EU rights extended to Irish citizens resident in Northern Ireland after Brexit.
Asked if the Irish government would fund the health costs for a Northern Ireland Irish passport holder seeking an operation elsewhere in the EU, Mr Varadkar said he was not sure Dublin would pay the bill.
He pointed out that, as things stand, Irish passport holders not habitually resident in the EU are not necessarily entitled to such care.
"Citizens rights don't necessarily go that far" Mr Varadkar said.
"I wouldn't be planning to change that. The costs would be phenomenal and I think our taxpayers would have difficulty bearing that."
On the Irish abortion referendum due to take place some time next year, Mr Varadkar says he was convinced "there is a strong majority now in the country for change to liberalise our existing abortion laws".
However, he added that it remained unclear how much change the public will support.