Clinton and May discuss Stormont crisis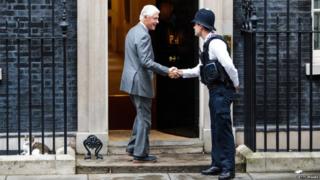 The prime minister has discussed the current political impasse in Northern Ireland with former US president Bill Clinton.
Speaking after their Downing Street talks, Mr Clinton said he and Theresa May had a good meeting.
The former president met DUP and Sinn Féin politicians in Belfast on Tuesday.
The two parties have been holding talks in a bid to end nine months of political deadlock at Stormont.
The executive collapsed in January and Northern Ireland has been without a power-sharing government since then.
In spite endless rounds of discussions, a deal to restore devolution has proved elusive with the introduction of an Irish language act seen as the main issue.
Northern Ireland Secretary James Brokenshire said on Wednesday the latest date for a Northern Ireland Executive to be formed to pass a budget is the week beginning 6 November.
That would mean legislation would have to pass through Westminster by the end of this month, he said: Parties would have to agree a deal by 30 October for that to happen.
'Pressure over MLAs' pay'
Since his first visit to Northern Ireland in 1995, Bill Clinton has been the most high-profile international champion of the peace process.
As president, he played a key role in helping to secure the 1998 Good Friday Agreement which led to power-sharing in Northern Ireland.
His meetings with DUP leader Arlene Foster and Sinn Féin's Michelle O'Neill on Tuesday took place at a critical moment for inter-party talks.
But Downing Street made clear that while efforts to restore power-sharing were continuing, Mr Clinton had not been used to deliver a message on behalf of the Government.
Speaking on Wednesday, Mr Brokenshire said the prospects of a deal to restore devolution did not look positive.
Mr Brokenshire told Westminster's cross-party Northern Ireland Affairs Committee that progress in the intensive talks stalled at the end of last week.
The stumbling blocks between the DUP and Sinn Féin were on language and culture, he said.
Mr Brokenshire also told the committee he "recognises public pressure" over the issue of MLAs' pay.
There have been calls in Northern Ireland for politicians' £49,500 annual salaries to be cut in the absence of a power-sharing government.
Mr Brokenshire said he would will keep the issue "under examination", and would deal with it if there was no progress in talks.
The Westminster select committee is charged with investigating Northern Irish matters, including the role of the Northern Ireland Office.
Its chairman, Dr Andrew Murrison, said the reputation of politicians in Northern Ireland was "plummeting".
The people of Northern Ireland had been dealt "a pretty raw deal", and it would be "unfair to point the finger at the British government", Dr Murrison told the BBC's Evening Extra programme.
'No deal, no recommendation'
Mrs O'Neill said on Wednesday she was still hopeful of a positive resolution, but added: "Clearly, we are quickly running out of road."
She denied claims in the Irish Times that she had been ready to make a deal with the DUP, but had been overruled by senior party figures.
Mrs O'Neill said she had "no deal, or no recommendation even" to put to a meeting of the party's ard chomairle (executive board) last weekend..
Party leader Gerry Adams said the Irish government was "sleep-walking into a deeper crisis in Anglo-Irish relationships" in relation to a possible return to direct rule.
'Callous disregard for patients'
Other political parties in Northern Ireland have voiced their frustration with the situation.
Ulster Unionist leader Robin Swann said Mr Brokenshire had a responsibility to "look at options to allow other parties to get on with the job".
SDLP leader Colum Eastwood said the two main parties "have brought us to the brink of direct rule".
"For the nationalist community, after years of trying to bring power back to Irish soil in order that local people could make local decisions, it should be a source of great anger that all of that power and progress is now being handed back to a Tory-DUP government in London," he added.
The Alliance Party's health spokeswoman Paula Bradshaw accused the parties of "showing a callous disregard for patient care".
"Issues such as missed targets and long waiting lists have direct consequences on people's quality of life," she said.
"Yet still we see parties putting their own narrow sectional interests ahead of the livelihood of hundreds of thousands of people."