UK 'gives Ireland low Brexit priority' claims Phil Hogan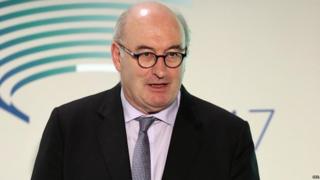 A European Commissioner has said it is "painfully clear" that the UK government is not going to provide workable Brexit solutions for the island of Ireland.
Phil Hogan said London had given a low priority to NI, describing this as "very disheartening".
However, the UK government described his assessment as "completely false".
It said the border was a "top priority" in its Brexit talks and claimed to have made "good progress" on the issue.
'Tough guy approach'
The British government has repeatedly said it will protect the 1998 Good Friday Agreement and wants no physical infrastructure to be erected along the Irish border.
But Mr Hogan said the UK had not shown how its border intentions can be achieved.
"We hear regularly about the need for a frictionless border, but the only policy positions outlined thus far would achieve precisely the exact opposite," he said.
Mr Hogan is the current Commissioner for Agriculture and Rural Development, and a former Irish government minister.
The UK has said that Brexit would mean leaving the customs union and the single market.
In August, it published two papers that suggested ways of avoiding customs checks at the border.
These included a new customs partnership with the EU, or wide-ranging exemptions for small businesses that trade across the border.
EU leaders reacted sceptically to those proposals, with chief negotiator Michel Barnier saying he was "worried" by them.
Mr Hogan also said that only "serious engagement and realism" would lead to progress in the Brexit talks by December.
He criticised what he called the "tough guy approach" of "Brexiteers".
"What becomes more obvious day to day is that the Brexiteers are hooked on brinkmanship and have been since the beginning."
However, in a statement, a UK government spokesperson said: "Addressing the unique circumstances of the Northern Ireland and Ireland border is a top priority for the UK government in Brexit negotiations and we have made good progress on this issue - which Michel Barnier himself has said.
"Our position paper put forward different principles and proposals to address this important issue, and was absolutely clear that there must be no hard border.
"We welcome the EU Commission's September paper which also committed to no physical border infrastructure on the border.
"The EU Commission has been clear that future customs solutions cannot be resolved in this phase of negotiations - and the UK believes discussions on the future partnership we want with the EU should begin as soon as possible."