Chief constable investigated: Police ombudsman statement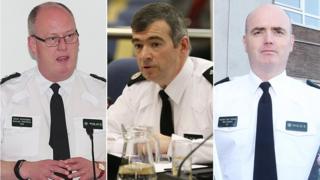 Northern Ireland's two most senior police officers are under investigation for alleged misconduct in public office and criminality that could amount to conspiracy to pervert the course of justice.
Chief Constable George Hamilton and his deputy Drew Harris are being investigated by the Police Ombudsman.
Assistant Chief Constable Mark Hamilton is also under investigation.
The men deny the allegations.
Here is the statement from the Police Ombudsman of Northern Ireland.
"We would not wish to provide the identity of the police officers under investigation, but would confirm that they include a range of officers, including those above the rank of Chief Superintendent.
"A number of allegations have been made. They focus on concerns about how a PSNI investigation in 2014 into allegations of bribery and misconduct in public office was conducted. They include allegations of criminality and misconduct in how this investigation was undertaken.
"The Police Ombudsman has declared this as a 'critical incident: ' our policy defines a 'critical incident' as a matter, the outcome of which could have a significant impact on the person making the complaint, on the police or on the wider community.
"The office has set up a dedicated team to look into these matters. It includes 6 investigators.
"We have arranged that the team has access to external legal advice.
"Given that some of the officers are above the level of Chief Superintendent, the Policing Board has been notified.
"The Office has not recommended the suspension of any of the police officers concerned."