Health staff offered prizes for flu jabs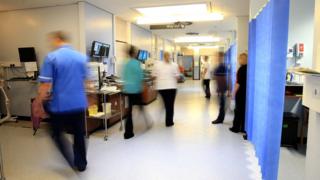 Health trusts are running prize raffles to encourage staff to get the winter flu jab.
Uptake among front-line staff is so low, the health trusts are missing targets; last year, the uptake was only 29%.
All staff working within the trusts are entitled to the influenza vaccine free of charge.
Some of the prizes include extra days off on annual leave.
The Public Health Agency is the body responsible for overseeing the campaign encouraging staff to get the flu jab.
BBC News NI obtained figures for the past three years to show targets were not being met.
In those years, there have been about 40,000 people working in the health system, and the number of those taking up the offer of the free vaccination has never been more than 12,000.
For frontline staff in 2014-15 and 2015-16, the target was 30% - uptake was 23% and 25% respectively.
Last year, the target was increased to 40%, but uptake was just 29%.
This year, the Southern Trust is running a ballot offering two days' leave for staff who avail of the jab.
The South Eastern Trust has said its efforts to encourage staff to get the flu vaccine includes running clinics in wards and trust premises, and entering those who get the jab into a prize raffle.
The Northern Trust and Belfast Trust are not running incentivised schemes, but the Northern Trust did say it was making the vaccine available to staff at "drop-in" clinics.
The Western Trust said it was planning to introduce a reward scheme later this year - for every flu jab delivered to staff, 10 tetanus vaccinations will be provided for a developing country.