NI paper review: Deal deadline pressure for parties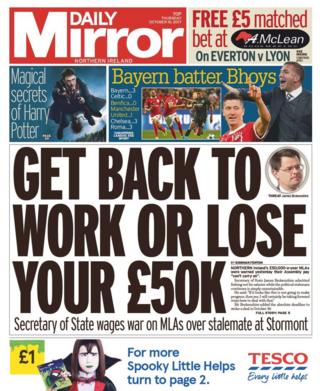 The Belfast Telegraph strikes a positive note in terms of the possibility that Sinn Féin and the DUP will be able to come to an agreement to restore devolved government in Northern Ireland.
Its front-page headline is: "A deal to restore Stormont is still possible: Foster".
That is in contrast to the small story the News Letter has as a front-page side bar, based on the same speech by DUP leader Arlene Foster to her supporters in Tyrone, with the less optimistic headline: "Foster: We will not be bounced."
In contrast, the nationalist-leaning Irish News has not covered Mrs Foster's remarks.
The Belfast Telegraph has three pages of coverage on the seemingly moribund talks process in its inside pages.
No assembly, no cash
The Northern Ireland edition of the Daily Mirror brings us back to politics with the headline: "Get back to work or lose your £50k".
It is based on comments from Northern Ireland Secretary James Brokenshire, who told Westminster's Northern Ireland Committee on Wednesday that MLAs could not expect to continue to receive their wages in the absence of a functioning assembly.
Mr Brokenshire has declared that 30 October is the deadline for the talks process.
DUP wooed Swann
"UUP leader rules out single unionist party" is the News Letter's front-page headline.
Robin Swann told the paper he will not accept moves towards creating a single unionist party.
He was speaking to the News Letter's political editor Sam McBride, in what the paper bills as its first in-depth interview with Mr Swann since he became UUP leader.
The Irish News also has an interview with Mr Swann ahead of his party's annual conference this weekend.
Mr Swann told the News Letter that his unionist rivals, the DUP, had approached him "numerous" times in the past to try and get him to join the party.
Sam McBride writes that the "psychological blow to unionism" delivered by the last Northern Ireland Assembly election - when unionists failed to return a majority to Stormont - has led to renewed calls for inter-unionist unity.
He also writes that there have been "several secret attempts to engineer unionist unity" in the last 10 years.
Mr Swann also denies that his party's vociferous opposition to any legislation regarding the Irish language - the key stumbling block preventing the return of a power-sharing in Northern Ireland - was evidence of a shift to the right, pointing out that the UUP was always opposed to such legislation.
Language 'battleground'
Mr Swann's party colleague, former UUP MLA Michael McGimpsey, has an opinion piece on that very issue in the News Letter.
He describes Sinn Féin's demand for an Irish language act before it will partake in a Northern Ireland Executive as "blackmail".
He says Sinn Féin has turned the Irish language into a "battleground" but also says he is "strongly opposed" to legislating for it, saying it would "divide this country as never before".
The News Letter also carries a denial from Sinn Féin's Stormont leader Michelle O'Neill that she was ready to strike a deal with the DUP on the issue, but was overruled by her party's executive.
Schools and parents
In non-political news, the Belfast Telegraph has a feature interview with "Docker Poet" north Belfast man John Campbell, who pays tribute to his recently deceased wife.
And in a piece (almost) unrelated to politics, Irish News columnist Newton Emerson discusses schools and education.
He tackles what he describes a "term-time disruption", and how it affects both children and parents.
In his piece, written from a more personal style than many columnists would employ, he writes that school closures for training and "school development" cause disruption to parents, especially working parents.
He believes that training days should be taken in a single block.
He asks: "But how will schools ever learn to take the needs of parents seriously, when the Department of Education shuts everything down for tow days just to cover its backside for mishandling the weather?"