County Armagh mother's plea over taking medication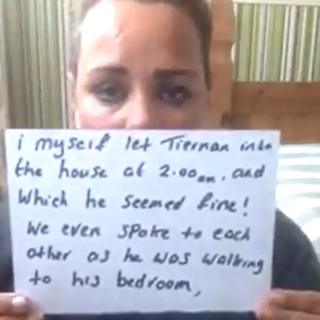 A County Armagh woman whose son died from an asthma attack is campaigning to get people to take their medication.
Donna Green's 20-year-old son Tiernán died at the family home in Derrymacash in January in spite of her best efforts to save him.
Ms Green told the BBC's Talkback programme that her son had only used part of his medication.
"Tiernán used his blue inhaler quite a lot, but Tiernán never used his brown inhaler," she said.
She explained how Tiernán had come to her bedroom door gasping with blue lips and ears.
"I'll never forget he actually looked at himself in the mirror and said 'I'm going to die tonight'," Ms Green said.
Tiernán passed away despite his mother's attempts at CPR and an ambulance crew who used a defibrillator after his heart stopped.
In a heartfelt Facebook video viewed by almost 900,000 people, Ms Green says: "We truly believe that if Tiernán kept taking his proper medication at the right times and have a proper care plan he would still be with us".
Consultant respiratory physician Joe Kidney explained to Radio Ulster's Talkback programme that asthma sufferers are prescribed blue inhalers that provide short-term relief: "It lasts only a short period of time - a number of hours - and when there's a bad asthma attack it's not enough."
The brown inhaler is an anti-inflammatory that takes a while to work and people think it doesn't work so well.
"That actually brings down the inflammation which in turn leads you prone to all these things," Dr Kidney said.
"You shouldn't need your blue inhaler if your brown one is working," he added, explaining that the two inhalers should both be used in a "combination therapy".