'Priests should be allowed to marry' says Derry clergyman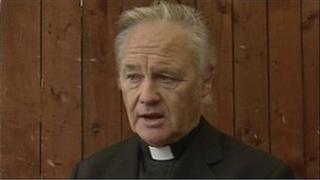 A Londonderry priest has said he believes marriage should be an option for Catholic Church clergymen.
Fr Paddy O'Kane, of Holy Family Church in Ballymagroarty, said the move could help address the global shortage of Catholic priests.
A quarter of Catholic parishes worldwide now have no resident priest.
Fr O'Kane said the Church may have to "take another look at celibacy and women priests."
"Many priests might choose to be celibate, but for those who want to get married it should be an option," he said.
'Many times of loneliness'
Writing in Derry Now, he said the shortage of clergy is impacting on dioceses across Ireland.
"Priest-less parishes are appearing all over Ireland and may be here in this diocese before long," he added.
"This year the national seminary in Maynooth had only eight students entering to study for the priesthood. Half of these will probably leave during their training."
Fr O'Kane said his own celibacy had allowed him to live devoted to serving others but had come at a personal cost.
"There are times I miss having a family and there are many times of loneliness and there have been times I have only held on to my faith by a hair's breadth," he said.
Earlier this year Pope Francis said he may consider ordaining married men - under very specific circumstances - to counter the shortage of Catholic priests.
However he ruled out dropping celibacy as a requirement for the priesthood.