Caitríona Ruane resigns as deputy assembly speaker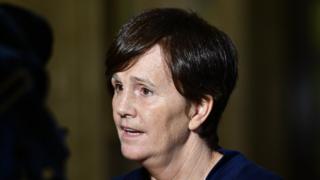 The deputy speaker of the assembly, Sinn Féin's Caitríona Ruane, has resigned from the role.
The former education minister did not stand in the March Assembly election.
However, she retained her role as principal deputy speaker, which attracts a salary of £55,000 - even though the assembly has not been functioning since January.
On Thursday evening, Ms Ruane said she had resigned "with immediate effect" as principal deputy speaker.
She said she had donated the salary to charities and community groups, including an Irish language group, a group for the elderly, an LGBT group and a charity for children with disabilities.
"I never anticipated that the election of a new speaker and deputy speaker would be so protracted and I have come to the conclusion that now is the time to tender my resignation," she said.
'Scandalous situation'
Earlier on Thursday, TUV leader Jim Allister described the payments as "beyond farce" and called on Ms Ruane to resign.
Mr Allister pointed out that the former UUP MLA Danny Kennedy, who lost his seat in Newry and Armagh in March, had resigned his job as deputy speaker.
The TUV leader claimed that receiving public money for a post no longer held was a "scandalous situation".
"To think that somebody who is not even an MLA, holds the post of principal deputy speaker of an assembly that they don't belong to, is farcical.
"But if on top of that, that person is being remunerated, then it becomes outrageous," he said.
'Very cumbersome'
Under the rules, the SDLP's Alex Attwood who lost his seat in March is also entitled to £55,000 a year as he sits on the Assembly Commission.
Mr Attwood declined a TV interview request, but the BBC understands he returns the vast majority of his salary to the Department of Finance.
He gives back £49,000 - the equivalent of an MLA's salary - and keeps the remaining £5,500 payment for his role as a commission member.
SDLP leader Colum Eastwood told the BBC's The View that Mr Attwood had made "an awful lot of effort" to pay back the MLA portion of his salary.
"It isn't the easiest thing in the world, apparently, it's a very cumbersome, technocratic, bureaucratic issue, but he pays the money back to the state and he's very determined to do that," Mr Eastwood said.
The SDLP leader added that Mr Attwood "wanted to resign" from the Assembly Commission but "couldn't" step down from the role while Stormont is not functioning.
"He's still doing the job as a commissioner, he's still goes to the meetings and represents the party.
"If we could change that situation, we'd do it tomorrow and Alex would be very glad to do it."
The executive collapsed in January and Northern Ireland has been without a power-sharing government since then.
On Wednesday, the Northern Ireland Secretary James Broken shire said he "recognised public pressure" over the issue of MLAs' pay.
Mr Brokenshire told Westminster's Northern Ireland Committee he would keep the issue "under examination", and would deal with it if there was no progress in talks.