Antibiotic drug use in NI 'highest in UK'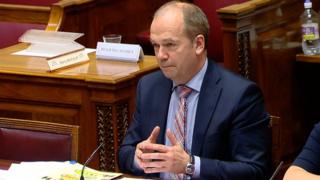 Antibiotic use is higher in Northern Ireland than the rest of the UK and NI's top doctor has warned overuse poses the "greatest danger" to health.
Using antibiotics unnecessarily leads to bacteria becoming "resistant" to existing drugs and medics fear infections will become untreatable.
NI's antibiotic usage was 30% higher than England's, with 1.9m prescriptions issued annually, said NI's top doctor.
Dr Michael McBride said this was contributing to a "global crisis".
The chief medical officer continued: "We know that Northern Ireland's antibiotic usage is higher on average than the rest of the UK and 30 per cent higher than England, with 1.9 million individual antibiotic prescriptions issued annually.
"Northern Ireland's contribution to this global crisis is clearly significant and we must drive this down."
'Problem ignored'
Dr McBride said antibiotic resistance was "the greatest danger to human health and to medicines worldwide".
"Currently 700,000 people die worldwide each year from drug resistant infections and this figure is forecasted to reach 10 million deaths by 2050, if the problem is ignored," he said.
"This statistic should be enough to make us all stop and think about the impact of the continued over-use and misuse of antibiotics.
"If we don't act now, it could mean that even the simplest infections cannot be treated and the most straightforward operations cannot be performed."
Dr McBride issed the warning as he launched his 10th Annual Report.