Florencecourt Victorian kitchen garden revived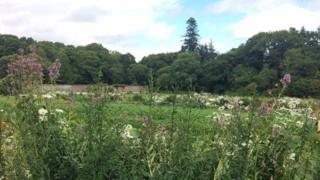 You may not have heard of cardoon, but more than a century ago, it regularly graced Victorian dining tables.
Now, it graces the kitchen garden at Florencecourt, as part of a project to return the space to its early 20th Century glory.
"Three years ago, this garden was a two-acre field," said David Corscadden, the head gardener at the National Trust property.
"We've been trying to restore it to how it would have been in the 1930s.
"We're trying to make it attractive for visitors so they'll want to come visit time and time again."
The garden would have been in its heyday during the Victorian era and up to the World War Two.
"Flowers and fruit would have mingled with the regular dinner table vegetables and now it's just the same," said Mr Corscadden.
"We've got two acres of herbaceous border and fruit gardens and what we would call perennial vegetables, things like artichokes and rhubarb, which would be there all the time."
The kaffir lilies and chrysanthemums sway in the breeze, between the cabbages and squashes, strawberries and raspberries.
There are also a few modern additions which may surprise visitors.
"We try to grow every year something that's a little bit new," said Mr Corscadden.
"Sometimes it's things people didn't think we could grow, like this year we've grown quinoa.
"It grows halfway up the Andes, so it should grow here and indeed it does.
"So we're trying to provide vegetables as an example of how you can grow them, but also vegetables that perhaps people would think, 'Oh, I can't grow that'.
"Well, we can."
For Anne Elliott, the garden is a trip down memory lane.
"My grandfather was the gamekeeper at Florencecourt Estate," she said.
"My childhood would have been to come here and see the garden as it was then.
"I remember the apple trees and the fruits, the gooseberry bushes and the blackcurrant bushes.
"I don't remember the glasshouses as they were, that was some time before me."
Those glasshouses now are merely white shadows on the red brick wall surrounding the garden, but they're not escaping the garden staff's attention.
"We are very happy that the Heritage Lottery Fund is working with us to restore and bring those two glasshouses back," said Mr Corscadden.
"We're in the early stages, but we're confident it will happen and that will be a tremendous achievement here."
Purposeful and pretty
The garden is both purposeful and pretty.
"The garden in the past would have provided the food and the flowers for the house. But now we sell all our vegetables through the Visitor Centre," said Mr Corscadden.
And if you're still wondering what cardoon is, the Visitor Centre is where you can buy some to try.
Apparently it's like celery, although you cut and boil it before eating.
Enjoy...