National Treasures Irish history road show in Belfast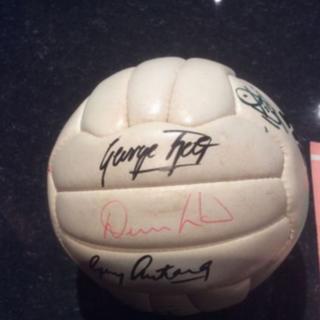 Have you got a little bit of Irish history stored away in your attic?
If so, the National Treasures Road show wants your possessions that explore the history of Ireland.
And what's more - they don't even have to be worth a fortune. They just have to tell a tale, be it sentimental, historical or funny.
The items will form part of a public history project gathering "everyday objects" aiming to tell the story of the island of Ireland over 100 years.
The road show has already been to Dublin and Galway gathering pieces for its digital archive and now it's travelling north.
If you can't make it to the road show, anyone can upload a photograph of their item and a description of it.
'Love, loss, hope and grief'
Curator Roisin Higgins told BBC's Good Morning Ulster's programme they had seen a "magnificent" selection of items so far.
"We've had great events already and a huge range of objects that tell stories of love, loss, hope and grief," she said.
"One of the items that was brought to the Dublin road show was very special. A woman brought us a box that her mother had made in a tuberculosis (TB) sanatorium in the 1950s.
"She was in it for three years and didn't see the children for that period, apart from through glass.
"She made this box as part of her occupational therapy while she was in there. So, you see, an object can tell a huge story."
But what are organisers hoping for in Northern Ireland?
"Belfast is the event I'm really looking forward to. We'll be looking for some linen," Roisin said.
"I'm from Ballymena which has a big linen history with Braidwater Linen Mill so that's what I want to see.
"Belfast also was the 'Linenopolis' in the 19th Century. We want to see all those traditions represented, like the shipbuilding as well.
"Also, people who live near Lough Neagh or the lakes of Fermanagh. There are lots of crafts and parts of life we don't hear in the bigger political stories. "
"The objects don't have to have any economic value. They don't have to be heavy," Roisin said.
"They can be a concert ticket, football programme, or something that represents theatre music or sport.
"We have a fashion and design historian. It doesn't matter how old the object is. If people think it's important they should bring it along".
One of the more extraordinary things Ms Higgins had seen was a snippet of the history of women's rights.
"Someone brought in a slip from 1918 to tell a woman in Portlaoise that she was now entitled to vote," she said.
The project says when finished, the hope is that it will be a "unique crowd-sourced tapestry of modern Irish history, one that emphasises the voices of ordinary Irish people".
So if you've got a box full of objects for the skip - don't throw it out - have a look and see if its got some hidden histories.