Troubles-related court cases to be 'fast-tracked'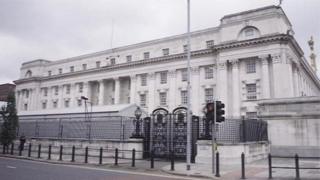 Plans have been announced to speed up Troubles-related legacy cases going through the High Court.
A number of judicial review cases are going to be "fast-tracked" to try to ease the courts backlog.
The move comes after a review of how legacy cases are handled by the courts.
It has been welcomed by legal firm KRW Law, which represents a number of families who lost loved ones in the Troubles.
"Today's announcement demonstrates strong judicial leadership in a political vacuum and our clients will welcome every opportunity to fully engage in any review," said Niall Murphy from KRW.
In a news release from the Judicial Communications Office, a spokesperson said: "The lord chief justice recently directed a High Court judge to carry out a review of all judicial files concerning legacy matters in order to ensure that the cases are case managed in an efficient, effective and expeditious manner.
"The week-long administrative review was carried out by Mrs Justice Keegan supported by officials from the Office of the Lord Chief Justice and took place during the week commencing 9 October 2017.
"Mrs Justice Keegan presented a case management plan to the lord chief justice and the senior judicial review Judge, Mr Justice McCloskey.
"The parties in the judicial review cases will in due course have their case listed for case management and a formal direction hearing."