Cars damaged in 'racially motivated' attacks in Belfast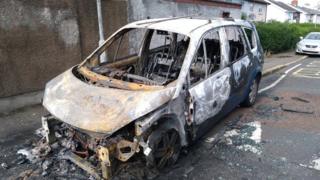 Three vehicles have been set alight in Belfast, in what police believe are "racially motivated" hate crimes.
Shortly before 04:15 BST on Sunday, police received a report that a car on Florida Street had been set on fire.
Around the same time, officers on patrol in the area of Wayland Street discovered a small fire on the bonnet of a parked car.
A car parked in Carlingford Street was also extensively damaged after reports of a fire.
A number of other vehicles parked near the car that was set alight in Florida Street were also damaged in that incident.
Police are investigating a link between the incidents and are treating them as "racially motivated hate crimes".