Knock Iveagh Cairn neolithic burial site turbine halted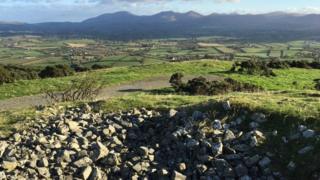 A stop notice has been placed on further work to erect a wind turbine close to a protected neolithic monument in County Down.
The decision was conveyed to councillors at an Armagh, Banbridge and Craigavon Council meeting on Monday.
No vote was taken and the matter was not discussed.
It is believed it was made by legal officers to address issues raised in solicitors' letters received by the council in respect of the development.
A full decision is expected to be issued by the council on Tuesday morning.
The stop notice prevents any further work at the site of Knock Iveagh Cairn near Rathfriland for a further 28 days.
The turbine was being erected 100m away from the 5000-year-old burial cairn which is a protected site.
Archaeologists were not consulted before permission was granted by Department of the Environment (DoE) planners back in 2013.
The experts have since said the development would have a visual impact on the integrity of the site and was in breach of planning policy.
The council inherited the fallout from the case when planning powers were transferred with the reorganisation of local government.
Since permission was granted by the department, planning responsibilities have passed to councils.
But it is understood councillors were given legal advice that if they revoke planning permission, they could be liable for the costs of the project.
The bill could be as much as £750,000.
There were no objections as the turbine went through planning back in 2012.
Locals said they only realised it had been passed when a separate broadband mast was erected next to the cairn last month, without planning permission.
Archaeologists in the Historic Environment Division of the Department of Communities were consulted by planners and came out firmly against the mast.
Arlene Copeland of the Friends of Knock Iveagh group said they were getting lots of "mixed messages" about whose responsibility it was to review the planning decision.
She said they could be left in the "ludicrous" position where one team supervised by archaeologists was on the hilltop dismantling the broadband mast, while another team was there erecting a wind turbine.
On the turbine application, the Department for the Communities said permission appeared to have been granted without "due consideration of the potential effects on the scheduled monument" 100m to the south east.
They said their view that it would have an adverse visual impact should be considered by council planners.
Armagh City Banbridge and Craigavon Council said it was "acutely aware" of the concerns raised.
BBC News NI contacted the landowner, who did not wish to comment.
It is not the first time such a mix-up has led to controversy.
In the mid 2000s, an Early Christian rath - or fortified homestead - in Waringstown, County Down, was destroyed during a housing development, after planners first failed to consult archaeologists and later omitted to pass on conditions they had imposed to the builder.