NI paper review: Lough rescue and Starsky and Hutch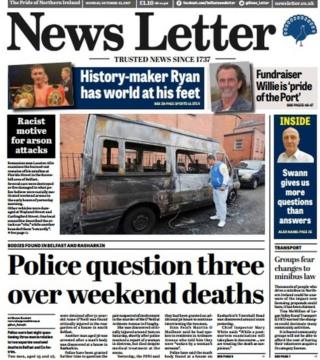 A Belfast murder, racist attacks, a lough rescue and the chance to buy the Starsky and Hutch car make Northern Ireland's papers on Monday.
The Irish News says it understands a burglary gone wrong is not suspected in the murder of Anne O'Neill in south Belfast's Finaghy area.
Mrs O'Neill, 51, died after being attacked at her parents' home at Ardmore Avenue on Saturday morning.
Two men are being questioned over the killing.
The Irish News reports that "a large section" of Malone Avenue in the city's university area was sectioned off as searches were carried out and the arrests made on Saturday.
The Belfast Telegraph says a neighbour of Mrs O'Neill's parents was woken by screams for help before hearing a man shout: "I'm going to find you."
The paper says that Mrs O'Neill had been left with severely impaired mobility after suffering a spinal injury during major surgery 15 years ago.
In its front page story, the News Letter says Mrs O'Neill's death is one of two over the weekend being investigated by the PSNI.
The paper says that the death of a man in his 50s in Rasharkin is being treated as suspicious.
A man in his 30s is being questioned after the body of the man - who is believed to have been Polish - was found at Townhall Road in the town.
'Vile and cowardly'
Elsewhere in the paper, racist attacks in east Belfast are described as "vile and cowardly".
Several vehicles were damaged in arson attacks at Florida Street and Wayland Street.
Ulster Unionist Deputy Lord Mayor Sonia Copeland tells the Belfast Telegraph those responsible are ruining east Belfast's reputation.
Sinn Féin's Mairead O'Donnell tells The Irish News she will ask police if paramilitaries were responsible.
Meanwhile, the owner of a Mexican takeaway on the lower Newtownards Road says he felt safer living in Sao Paulo in Brazil after thieves used hammers to smash their way into his premises and steal the till on Thursday.
Tough fight
Ryan Burnett's unification of the WBA and IBF bantamweight titles is given its due in the papers.
The Irish News says that "rags-to-riches sport tales are dime a dozen, but Burnett's is unique" as he overcame a suspected brain abnormality earlier in his career and being homeless before achieving world title glory.
The north Belfast boxer was taken to hospital after the fight to have a brain scan and his jaw examined.
"It wasn't a comfortable place to be, being in the back of an ambulance after such a tough fight," Burnett tells the Belfast Telegraph.
Lough rescue
The rescue of a man from Lough Neagh is featured in both the Irish News and Daily Mirror.
James Nicholl and Jedd Hill, two friends, who helped rescue the driver of the vehicle, tell the Mirror why they felt they had to help.
"We don't feel like heroes, but we do want to say to people there's a time and a place to step up," says Mr Nicholl.
Staying with acts of selflessness, the News Letter profiles Portrush man Willie Gregg who has been raising money for charities around the world since he was a child.
The paper describes him as the "pride of the Port".
Finally, if you've ever wanted to take the red-and-white striped Gran Torino from Starsky and Hutch for a spin or decorate your home with an Iron Man statue, now's your chance.
The items are part of the collection of an English drug dealer and movie buff being auctioned in Belfast on Thursday.
Other vehicles include the Blues Brothers' Bluesmobile and Del Boy's yellow van as well as statues of an Ewok from the Return of the Jedi, ET and Gene Wilder as Willy Wonka.