Policewoman on shoplifting charges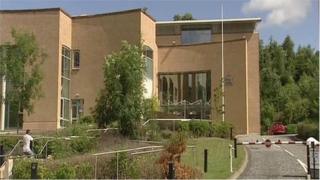 A Fermanagh police officer has gone on trial charged with shoplifting.
Linda Totten, 50, whose address was given as PSNI Enniskillen, denies both charges.
They involve the theft of £156.81 of goods from an Asda store in Enniskillen on Christmas Eve 2013, and items to an unknown value four days earlier.
Ms Totten claimed she was subjected to abuse by staff when she tried to show a receipt for goods that turned out to be from two months earlier.
'Overflowing trolley'
A prosecution lawyer said that on the first occasion Ms Totten had approached a check-out with "a trolley overflowing with items" but had only presented a few items for payment.
He said the accused had said the remainder of the items were already paid for, and that when asked for a receipt Ms Totten said it was "out in the car with her partner".
She was asked to retrieve this and agreed to fetch it.
The lawyer said that later that day a supervisor asked Ms Totten for the receipt, and was given one from two months earlier.
Self-service checkout
Four days later, staff became aware Ms Totten was back in the store and filling a trolley with items.
On completing her shopping, she made her way to a self-service checkout, and a staff member approached and asked her to move to a staffed checkout.
Ms Totten refused. She put some items through the checkout, but left over 70 unscanned, to the value of £156.81.
She was apprehended in the car park, the police were called and she was arrested.
'Top-up shop'
Ms Totten's lawyer contended that on the first occasion in question, his client had already put the main items through and paid for them, then realised she had forgotten a few items.
She claimed to have proceeded to carry out a "top-up shop".
When asked by the supervisor to show the receipt, Ms Totten explained she had shown the receipt to customer services, and was "startled" to be asked to again produce the receipt.
'Shocked'
Her lawyer put it to the supervisor: "My client is very clear. You said 'We deal with millions in here stealing. I've seen you before with your big fat Romanian girlfriend.'"
This was rejected outright by the supervisor who replied: "I never said any such thing."
The lawyer said Ms Totten was shocked by the way the supervisor had spoken to her.
This was rejected by the supervisor who said: "I dealt with Miss Totten professionally and in an appropriate manner."
The trial continues.