Policewoman accused of shoplifting 'grabbed by security'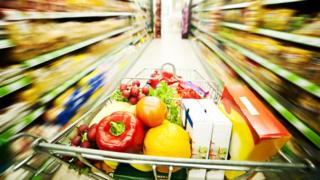 A female police officer on trial for theft was grabbed by security staff and was called "sir", a court has heard.
Linda Totten, 50, with an address given as a police station in Enniskillen, County Fermanagh, denies shoplifting.
She is facing two charges relating to the theft of goods from Asda in Enniskillen in December 2013.
During cross-examination of a witness on Tuesday, Ms Totten's lawyer said she had been referred to as "sir" and found the comment to be "discriminatory".
The witness, a security manager at the supermarket, told Dungannon Crown Court: "I categorically deny that happened in any shape or form."
The security manager had been on duty, operating security cameras, in the supermarket on Christmas Eve 2013 when the second of the alleged thefts took place.
'He, she or it?'
The court heard that Ms Totten left the store, pushing a laden trolley to the carpark.
She was then apprehended by the security manager, who suspected that the goods in the trolley had not been paid for.
Ms Totten was asked to show receipts for her goods and handed over two, which accounted for some of the items.
The trolley was then searched and the non-receipted goods were scanned by staff, who found that they amounted to a cost of £156.81, the court was told.
The security manager confirmed that he did not know Ms Totten prior to the incident and agreed that she had returned to the shop voluntarily when asked to do so.
Ms Totten's barrister asked the security manager: "Is it not the case someone in security said he didn't know if my client was a he, a she or an it?"
The suggestion was denied by the witness, who said it was a "lie".
Vacate the dock
The barrister said that Ms Totten claimed "hands were actually laid on her and she was grabbed" after she was apprehended.
"My client was nervous and distressed - she asked for a pen and paper, explaining she suffers from hearing loss," he added.
"Far from being helpful, [another] staff member shouted at her, stating she knew she was police and that she had 'done' her relatives in the past."
The security manager rejected those claims.
While CCTV footage was being played to the court, Ms Totten was given permission to vacate the dock and sit at the benches used by legal representatives after she claimed she could not see it.
She was remanded on continuing bail.
The trial is expected to last at least until the end of the week.