Tragic paupers finally remembered in Ballymoney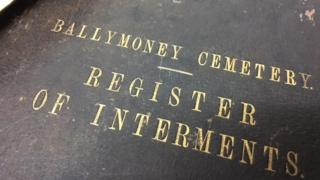 An anonymous, mass grave used to bury the poor in County Antrim more than a century ago will finally be marked by a headstone, thanks to a local man.
Andrew McMullan, a funeral director in Ballymoney, has offered to pay for a memorial at the paupers' grave in the town's Knock Road Cemetery.
Council records show more than 200 people who could not meet funeral costs were buried there from 1891 to 1919.
Mr McMullan said he was pleased his fellow townsfolk will be commemorated.
Desperately poor
For years, the mass grave has only been identifiable as a clear patch of grass near the cemetery's car park.
Most of those buried at the site died at the nearby Ballymoney workhouse, which closed in 1918 and has since been demolished.
Although the causes of death varied from broken bones to so-called "scarlet fever" everyone buried in the grave had something in common - they died desperately poor.
With the help of a local historian, Dorothy Arthur, BBC News NI has identified one of those interred in the paupers' grave.
Ms Arthur is the author of Ballymoney Old Church Graveyard, and assisted in tracking the fate of Ellen Hunter, née Miles.
---
Ellen's story
When Ellen Hunter got married in the mid-Nineteenth Century, she could never have guessed the tragedies that would befall her family and how her life would end - destitute in a workhouse.
She was 35 when she wed widower James Hunter.
He was a few years older than her, but the couple would have had many things in common, having both grown up in farming families.
They had been neighbours in the townland of Artiloman, in the parish of Finvoy near Ballymoney.
After the death of his first wife, James was left to care for at least one child - his daughter Elizabeth.
He married Ellen at the town's registry office on 7 April 1855 and she became Elizabeth's stepmother.
Ellen went on to have two more children - a daughter, Mary Ann, and a son, Alexander.
There are no surviving baptismal records for the children.
We know Ellen was Episcopalian, but there were a lot of other Hunter families in the area at the time and most of them seem to have attended Finvoy Presbyterian Church.
As her family grew up and had children of their own, a series of tragedies struck the men in Ellen's life, leaving her financially vulnerable as she entered old age.
The 1901 census shows that Ellen, then living in Dirraw south of Ballymoney, had been widowed.
By that stage her stepdaughter, Elizabeth, had married a widower, William.
They had six children, but when William died, Elizabeth was left to provide for her young family alone, and one imagines the daily struggle to feed six hungry mouths.
Ellen's biological daughter, Mary Ann, had moved to Scotland after she married James Hodge, a coal miner from Motherwell.
That left Ellen depending on her son, Alexander. He had married Mary Jane Hunter in Ballymaconnelly in 1878 in Finvoy.
Mary was the eldest daughter of a local weaver and the couple had five children.
However, tragedy struck again when Alexander died in 1893.
Mary Jane would have struggled to feed their family, making a humble living as a linen weaver.
Having lost her husband and son, and with her daughters both unable to provide much if any financial help, Ellen would have found herself in desperate poverty in her old age.
The only place which offered relief for the poor and sick was the local workhouse, located on the south side of the Coleraine Road in Ballymoney.
She would have been given a cold bath and de-loused as she entered the workhouse.
It is not clear if, at her age, she would have been expected to carry out any form of labour, but we know her daily diet consisted of small quantities of oatmeal, soup, bread, potatoes and buttermilk.
She died in the workhouse of heart disease on 19 January 1908.
With her family unable to pay for a formal funeral or burial plot, her body was taken the short distance to the paupers' grave near Knock Road.
Despite having worked hard raising a family, Ellen died with nothing to her name in the care of the state.
She is among more than 200 poverty-stricken residents whose lives will now be commemorated in the cemetery.
---
Andrew McMullan said he wanted to pay tribute to the people of the town who had been buried there.
"A few years ago we realised how many people were buried there and we decided to do something, to put a marker on the spot," he said.
"The people in these plots are babies, sons, daughters and people of Ballymoney. They are a part of our history.
"It's very sad that people have been labelled as being buried in paupers' graves.
"The objective is to mark the spot for the people in these plots and that the residents in the town may reflect on the people of their history."
Causeway Coast and Glens Council accepted his offer to erect the headstone and waived any associated fees, thanking Mr McMullan for his "vision and input".
"This memorial stone will acknowledge the provision and location of paupers' graves within Ballymoney Cemetery," said a council spokesperson.