PSNI to hold recruitment events for LGBT community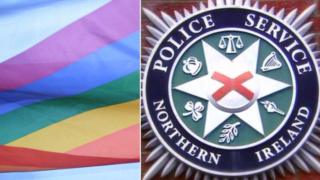 The PSNI is to hold a number of recruitment events for members of the LGBT community for the first time.
Three information evenings will be held early next month. The move has been welcomed by gay, lesbian, bisexual and transgender support groups.
The PSNI launched a recruitment drive on Monday, aiming to employ 300 new officers by the end of March next year.
Three events specifically aimed at members of the LGBT community will be held in Belfast and Newry.
They have been organised in conjunction with the Rainbow Project, which has welcomed the development.
"We think it's great," said Gavin Boyd, policy manager for the group.
"We have been working in partnership with the PSNI on how they can engage with the LGBT community for more than 10 years now.
"We encourage LGBT people to become involved in all public sector organisations at all levels," he added.
'Tensions'
A separate event for people who identify as transgender will be held in Belfast.
It has been organised in partnership with SAIL NI, a support organisation for families of transgender and gender variant people.
Ellen Murray, a director with the group, welcomed the initiative.
"There have been historical and contemporary tensions between the trans community and the police and this will help build bridges and some trust," she said.
"This goes some way to demonstrating a commitment to taking diversity and inclusion seriously."
In a statement, PSNI Deputy Chief Constable Drew Harris said: "As part of our ongoing engagement towards under-represented groups within our organisation we have been working closely with a number of external agencies and we will be holding a number of information sessions regarding our current recruitment campaign.
"The Police Service of Northern Ireland is committed to ensuring our workforce is totally representative of the community we serve and that we are seen as an employer of choice."
TUV (Traditional Unionist Voice) leader Jim Allister criticised the move, describing it as "unwarranted pandering".
He said members of the LGBT community were already fully protected under the law:
"It should be the merit principle that governs recruitment and that alone and now we are going to bend the merit principle," he told the BBC's Good Morning Ulster programme.
He said that sexual orientation was not the business of an employer by law, and should therefore be no business of the PSNI.
'Positive step'
Brain Paddick, the former Deputy Assistant Commissioner of the Metropolitan Police, said that although things were improving, there was still a lot of prejudice in society against the LGBT community.
"This move by the PSNI reflects what has happened before, where there is a lack of confidence among a particular minority community and the police... are making positive steps to try and show that they have changed," he said.
Mr Paddick, who was one of the UK's most high-profile gay officers, said the recruitment campaign not only makes life easier for serving LGBT officers in the PSNI, but also gives confidence to minority communities that the police service is moving forward.
Two months ago, the Pride parade in Belfast included uniformed PSNI officers for the first time.
Three PSNI vehicles were also on the streets bearing a Pride message.
The 'Policing with Pride' liveried PSNI vehicles were also used at Pride events in Newry and Londonderry.