NI ambulance staff attacked eight times a week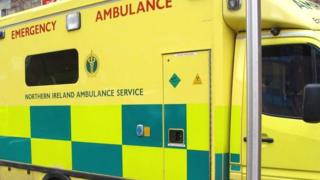 The Northern Ireland Ambulance Service (NIAS) has said that eight of its crews get attacked while on 999 call-outs every week.
It said the situation was "dangerous and unacceptable".
The latest attack happened in Londonderry in the early hours of Tuesday morning when a patient attacked a paramedic.
The crew member was left with cuts and bruises and was unable to carry on with his duties.
The assault happened when the patient was leaving the ambulance after being taken to Altnagelvin Hospital.
The attacker was arrested by the police.
Communitiy risk
Shane Devlin, the chief executive of the NIAS, said attacks can have a knock-on effect on the amount of ambulance cover available in Northern Ireland.
"If a paramedic or technician is removed from service, and rightly so to recover, we will end up dropping crews.
"One of the most important things is that the ambulance is there for communities when they need the ambulance.
"If our teams re being assaulted there will be a real risk that communities will be left without cover."
He added that the NIAS will always push for custodial sentences for those found guilty of attacking crew members.
"I would wish to see all people who are convicted of assaulting our staff feel the full force of the law."