Abortion laws 'punish sex-crime victims'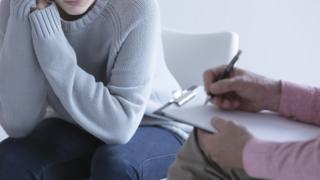 Northern Ireland's abortion laws amount to a "cruel, inhumane and degrading punishment" of women, the Supreme Court has heard.
A barrister for the United Nations said criminalising women who seek an abortion in cases of sexual crime or fatal foetal abnormality amounted to a breach of human rights.
Supreme Court judges are being asked to consider whether this is the case.
The hearing ended on Thursday. A ruling is not expected until a later date.
On Wednesday, a barrister for the Christian Action and Research in Education, claimed "100,000 lives had been saved" by Northern Ireland's abortion laws.
The current law in Northern Ireland means abortion is illegal in all but the most restrictive of circumstances: When a woman's life is in danger, or if continuing the pregnancy would result in mental or physical harm.
The UN barrister told the court on Thursday this barrier meant the state was discriminating against women on the grounds of sex.
Northern Ireland's Attorney General John Larkin has argued the law does not breach human rights legislation.
The appeal has been brought by the Northern Ireland Human Rights Commission (NIHRC), which argues the current law in Northern Ireland breaches the European Convention on Human Rights.
However, Mr Larkin and lawyers for the Department of Justice have also been on their feet explaining why they consider the law in Northern Ireland to be compatible with that convention.
Britain's 1967 Abortion Act, which provided a legal defence for carrying out abortions out in England, Scotland and Wales, was never extended to Northern Ireland, where abortion laws remain much stricter than the rest of the UK.
Timeline of NI abortion law challenges
Abortion law in Northern Ireland is based on the Offences against the Person Act 1861, which made it an offence to terminate a pregnancy.
In 1945, an exception was added to allow abortion in order to preserve the life of the mother.
Abortions are also allowed if continuing with the pregnancy will result in other serious physical or mental health effects.
The punishment for breaking the law remains life imprisonment.
This is a significant step in Northern Ireland's abortion law story, as the Supreme Court in London is the final court of appeal for all civil and criminal cases.
In June, the government announced that women from Northern Ireland would be able to access free abortions in England, but campaigners pointed out that the procedure was not only expense.
On Monday, the Minister for Women and Equalities, Justine Greening, announced a plan to cover travel costs to England in some "hardship cases".
It means women from Northern Ireland whose income is less than £15,300 per year, will be eligible to state support to pay for travel and accommodation if they choose to have an abortion in England.