NI pensioners 'to outnumber children' by 2028, NISRA predicts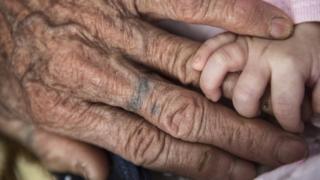 Northern Ireland's aging population will be comprised of more pensioners than children in just over 10 years' time, statisticians have estimated.
The demographic shift is among several changes predicted by the Northern Ireland Statistics and Research Agency (NISRA) in its 25-year projections.
It believes NI's overall population will reach 2m by the year 2041.
It has estimated, by that stage, the number of people aged 65 and over will have increased by 65%.
That would see Northern Ireland's pensioner population rise significantly from its current figure of 297,800 to 491,700.
Over the same period, NISRA believes there will be a fall of almost 6% in the number of children living in Northern Ireland.
That means the youngest section of society - from newborns to young people aged 15 - would drop from 388,000 to 365,400.
'Aging faster'
In another sign that people are living longer, NISRA predicts the proportion of people aged 85 and over is set to double.
It believes their representation will rise from 2% of the population to just over 4%.
The shift towards an older population profile means there will be fewer people of working-age to support pensioners in their retirement.
An aging population can also put a greater demand on health and social care services.
The statisticians believe Northern Ireland's overall population will grow at a slower rate than the UK average, but it will also age at a faster rate.
NISRA said the main factor driving Northern Ireland's population towards the overall 2m mark was "natural growth".
It is projected that by 2041, the number of births will exceed the number of deaths by 127,300.
NISRA describes itself as "the principal source of official statistics and social research" on Northern Ireland
The agency is overseen by Stormont's Department of Finance.