NI Paper Review: Seamus McGrane conviction and prisoner pay-outs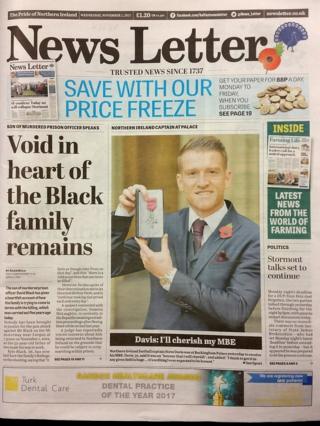 The morning after a spooky Halloween (featuring the ghost of politics-past-a-deadline up in Stormont) the papers appear to have moved on to more practical matters - money.
The Irish News's front page reports that a Northern Ireland hospital is spending £1m a year on three stand-in A&E consultants.
It reported that each locum, or temporary doctor, is costing £365,000-per-year compared to the £120,000-per-year usually paid to a full-time A&E consultant.
Over in the Belfast Telegraph, it's about money behind bars - its front page says that prisoners in Northern Ireland jails have received compensation payouts totalling more than £700,000 in the last five years.
Figures obtained by the paper show there has been over 2,000 claims from inmates alleging injury or lost and damaged property.
Claims include assaults, trips, falls, smoke inhalation and unsafe working conditions.
The News Letter, meanwhile, leads with an interview with Kyle Black, the son of murdered prison officer David Black who was shot dead five years ago to the day.
Inside the paper, Mr Black writes that "there is a void in our lives that can never be filled" and that he and the rest of his family "seek to get through each day as best we can".
Back over at the Belfast Telegraph, it picks up a similar theme by speaking to the widow of murdered PSNI officer Stephen Carroll.
The paper reports that Kate Carroll has praised ex-PSNI officer Peadar Heffron, who spoke about his experiences of being seriously injured in a car bomb.
Mr Heffron and Mr Carroll were both Catholic officers targeted for attacks.
"I think it would be a good step forward if people were allowed to get on with their work instead of being subjected to shootings and bombings," she told the Belfast Telegraph.
Real IRA conviction
"I hope people would see that Catholic police officers are trying to come together and make more of the community and help the community."
The Irish News dedicates two pages to the conviction of Real IRA leader Seamus McGrane for directing the activities of a terrorist organisation.
The paper reports that McGrane was also a driving force in another dissident republican group, Óglaigh na hÉireann, and that he had plotted an explosion during a visit of Prince Charles to the Republic of Ireland.
The Irish News's security correspondent Allison Morris writes about McGrane's background and also offers analysis on the operation by the PSNI and their police counterparts in the Republic that "cut the head off the snake".
The Daily Mirror, meanwhile, reports of more anti-social behaviour in Belfast's Holylands area.
World Cup blow
It says that a mattress was set on fire while large crowds gathered in the early hours of Tuesday morning.
SDLP MLA Claire Hanna said it flared up at about 02:30 GMT and "it seemed to have been a particularly bad night".
Elsewhere, the paper looks at Ireland's attempts to secure the 2023 Rugby World Cup - and reports that authorities still believe their bid can win despite taking some big hits on Tuesday.
Evaluations by World Rugby recommended that South Africa be awarded the tournament with Ireland trailing both it and France in many key areas.
However, bid chairman Dick Spring says there is "nothing in the report which is insurmountable and this is certainly not the end of the road".
But the final sporting word must go to the News Letter.
Marriage can be one long, exhausting journey - but that should be no problem for a soon-to-be-married couple who have completed over 300 marathons together.
The paper reports that Gillian Cordner and Gary Connolly are so running-mad they are planning a 26-mile foot race as part of their big day.
"It will be a very intimate and personal ceremony and then we get to do what we love - run, with our running family there to celebrate," says Gillian.
"After that we fly out to Tenerife on Saturday to run the Tenerife Marathon on Sunday - then relax!"